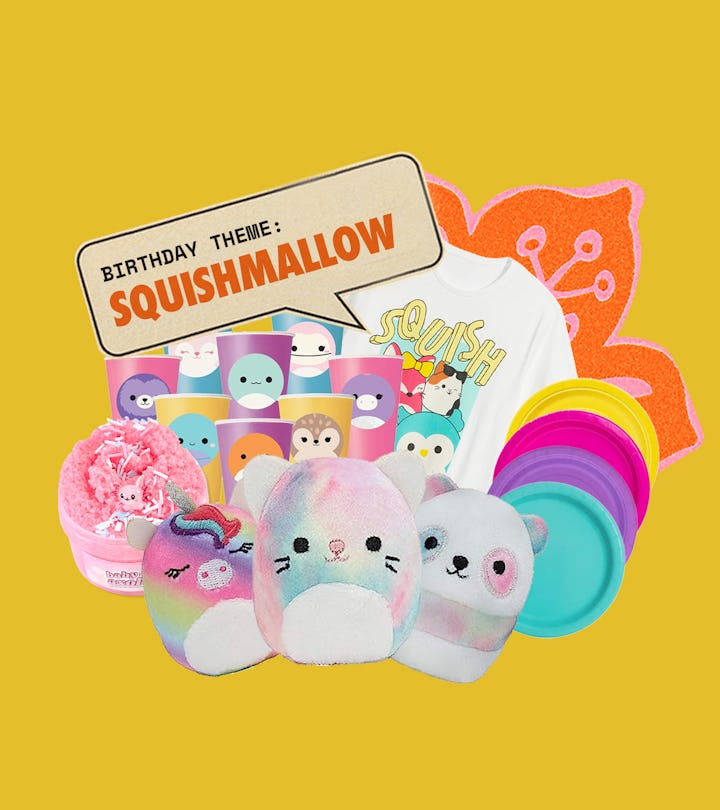 Everything You Need To Throw A Squishmallows Birthday Party
From axolotl invitations to the perfect cake pops.
Squishmallows are the perfect toy — they're easy to collect, come in many different varieties and sizes, and make children of all ages (even cranky tweens!) inexplicably happy. This makes throwing a Squishmallows birthday party low-lift and fun. You can go full-on Squishmallows with the soft, round little guys everywhere, or you can go with a particular Squishmallows theme, like Squishmallows axolotls or Squishmallows cows.
And thanks to viral TikTok videos showcasing the theme, Squishmallows have taken over everything from cake toppers to invitations. While there isn't a whole Party City aisle dedicated to the toy yet, there are plenty of ideas — think lots of pastel colors — and you can get started right here.
Squishmallows Birthday Party Invitations
Whether you want cows and cats only or you're having a Squishmallows pool party, the options are pretty endless. You even have the option of using a downloadable template to edit and print yourself, or having them printed and mailed as hard copies.
Squishmallows Birthday Party Decorations
The best thing about this party is that you can just grab your child's Squishmallows and set them up all over the cake table or around the house and it totally counts as great decorations. But there are also some adorable garlands and photo backdrops that really pull the theme together. Add in lots of pastel balloons, matching tablecloths, and an amazing centerpiece and you're good to go.
Squishmallows Birthday Party Favors & Crafts
A bouncy house in the yard is perfect for a Squishmallow birthday party, but if you need an activity, there are some super easy ones to throw together. You can pass out sweet little mini Squishmallows and decorate glittery pink pencil boxes to carry them home in (activity and favor in one!). You can also find plenty of fun Squishmallows craft kits (think jewelry design), as well as some fun Squishmallows-themed slime and pastel playdough kits.
Squishmallows Birthday Party Treats & Desserts
Squishmallows come in a rainbow of pastel shades, and all of their fun extras — like sparkles and rainbows — make for very easy treat and snack pairings. If you just want a sprinkle cake in the colors of your favorite squishmallows, that's perfect. But there are also some gorgeous sugar cookie designs available, as well as the ultimate cake pops from Little Miss Cake Pops, which you can order for $72 per dozen.
Squishmallows Birthday Party Outfits & Shirts
If you're in the market for a Squishmallow shirt of your own for your child's Squishmallow birthday party, there are tons of options. Your little one will also be all set. There are plenty of fun, bright tees with your child's age and name customized, as well as little tutu dresses featuring some of the cutest Squishmallows. But if you don't want to get too theme-y (is that a thing?), there are plenty of sweet pastel sweatshirts, dresses, and shirts for your child to coordinate without being too matchy-matchy.
The best thing about a Squishmallows birthday party is that it works just as well for a 2-year-old as it does for a 12-year-old. These squishy little guys are all the rage, and every child loves to give them a squeeze. It makes for a bright, fun, happy little theme — and bonus: it totally encourages people to buy your child more Squishmallows as gifts.