take my love, take it down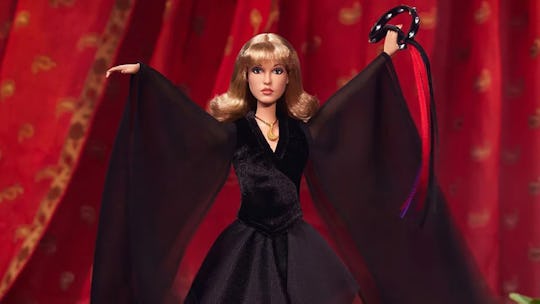 Mattel
Stevie Nicks Is Finally Getting Her Own Barbie Styled In One Of Her Most Iconic Looks
The legendary singer says the doll "absolutely has my heart."
The iconic Stevie Nicks has finally been immortalized as a Barbie. Formerly the lead singer of Fleetwood Mac, multiple award-winning solo artist, the poster girl for independent women of her generation, and now... a Barbie made in her likeness. Complete with the trademark blonde bangs and the winged black dress, perfect for twirling and dancing and owning every stage she's ever performed on.
On Monday, Mattel debuted a doll created in Stevie Nicks' likeness as part of its Barbie Music Series. Nicks' Barbie, available for pre-order now, has a smoky eye, the blonde bangs and flowing black dress, much like the one Nicks wore on the cover of Fleetwood Mac's 1977 Rumours album, along with a pair of groovy platform boots and her signature golden moon necklace. "We wanted to wish Stevie Nicks a happy 75th birthday in the best way possible. So we created a Barbie doll to capture her iconic style," Mattel said in a statement, a nod to Nicks' birthday in May of this year.
The singer shared the launch of her own Barbie on Sunday onstage at Madison Square Garden, telling the crowd that she "hoped you love her as much as I do, because here she is! Stevie Barbie!" They clearly did love it, because Stevie Nicks' Barbie was made available for preorder on Monday on Mattel's website and has already sold out.
The "Landslide" singer was not without reservations about having a Barbie created in her likeness, as she explained in a moving post on X. "Of course I questioned 'would she look like me? Would she have my spirit? Would she have my heart…,'" she wrote on social media. "When I look at her, I see my 27 year old self~ All the memories of walking out on a big stage in that black outfit and those gorgeous boots come rushing back~ and then I see myself now in her face. What we have been through since 1975~ the battles we have fought, the lessons we have learned~ together. I am her and she is me. She absolutely has my heart."
The official Barbie Instagram page also shared the news of the Nicks' Barbie along with a lovely little tribute to the singer in the caption reading, "Soulful stage presence. Spellbinding style. With a career that's touched generations of music lovers, @StevieNicks is the latest legend to be celebrated as part of the Barbie Music Series, bringing her inspiring story and chart-topping career to artists and audiences of all ages. #Barbie #YouCanBeAnything."
In a year joyfully dominated by all things Barbie, we love to see another icon honored. And honored so well, at that.