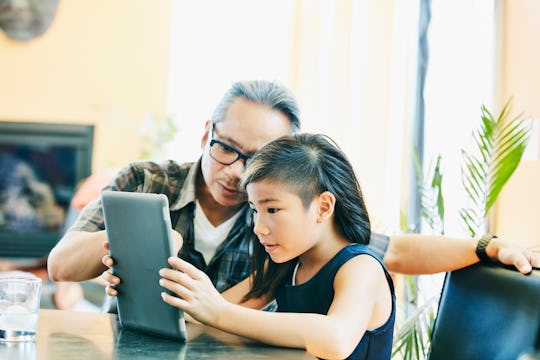 Thomas Barwick, Getty images
Study Schedule Templates Are Hot On Pinterest RN — Here Are 10 Good Ones
Keep kids calm and on track.
Homework is something every student will eventually have to face and whether you're 7 or 17, it can be a challenge making the time to get the work done. Some families have a policy that all homework must be complete before play time. Others allow a window of rest at home before tackling the books, but even with those structures in place, keeping track of assignments and forthcoming tests can be tricky. That's why so many parents rely on the structure that study schedule templates can provide — so much so that Pinterest saw a 1600% increase in search for these types of templates this year.
A tool kids and parents can use together, a study schedule template allows you to keep tabs on all the many tasks your child need to complete. But because every school or homeschool set up is unique and every child learns differently, no one template will fit all learners. Fortunately, Etsy has a ton of options in all kinds of styles that can be printed at home.
For kids that need to look at completing homework in terms of goals, there's a template for that. For others who need reminders to stay off their devices and focus on homework, there's a template for that. There are even templates that include water break checks to ensure little scholars remember to stay hydrated. And the best part, you can use these study schedule templates together to check off completed assignments and help your children prepare for tests. Here's the best of the bunch.
We only include products that have been independently selected by Romper's editorial team. However, we may receive a portion of sales if you purchase a product through a link in this article.
Get your child on the right track with homework by investing in one of these very affordable print at home study schedule templates.
Excited about your Back-To-School style? Enter Bustle x Pinterest Storm the Dorm Sweepstakes. Inspired by actor and incoming college freshman Storm Reid's wave-making personal style, this sweepstakes offers a chance to win one of five $1,000 gift cards to put toward expressing your own aesthetic through your dream bedroom.