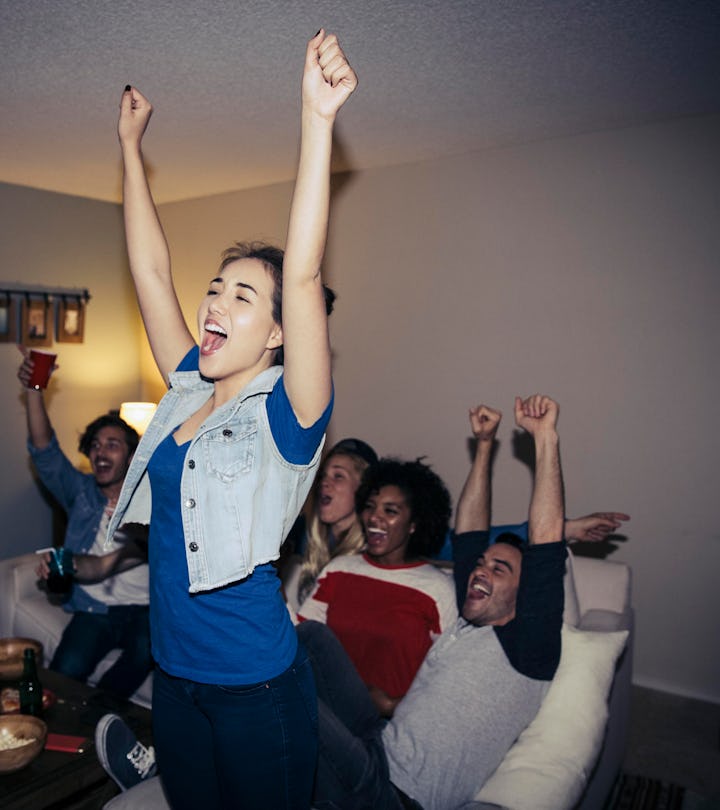 The Good Brigade, Getty images
10 Super Bowl Party Games To Play While You Watch The Main Event
For those who are in it for the commercials.
We may receive a portion of sales if you purchase a product through a link in this article.
As anyone who isn't a major football fan probably knows, the Super Bowl is entertaining, but it can feel a little long. If you're looking for something to do other than, you know, watching the entire game, these Super Bowl games for adults are fun for everyone.
This year, Super Bowl 57 is on Sunday, Feb. 12, 2023 and the Philadelphia Eagles are playing the Kansas City Chiefs. Rihanna is headlining the halftime show (which is sponsored by Apple Music this year), and if we're lucky maybe she'll perform Umbrella and give us millennials a much needed trip back to 2007. If you're starting to realize just how long one 15-minute quarter can really stretch, try busting out one of these Super Bowl games that keep things lively (and some of them are printable PDFs you could literally buy and print in the middle of the game). From bingo cards that turn the commercials into a competition, to tabletop cornhole, or good old trivia, there's a game here that everyone will love. Even those who want to keep one eye on the TV screen can still be involved, but just be prepared for a super fan who doesn't speak to anyone during the game (everyone knows one) to refuse to play.
Read on for 10 fun Super Bowl party games you can play during the main event or as part of a pre-game, and don't forget to secure some great prizes in advance to make the stakes even higher.
Whether you want to play games to avoid watching the actual Super Bowl or just want to combine the fun, these Super Bowl party games are a must for any football get-together.
This article was originally published on