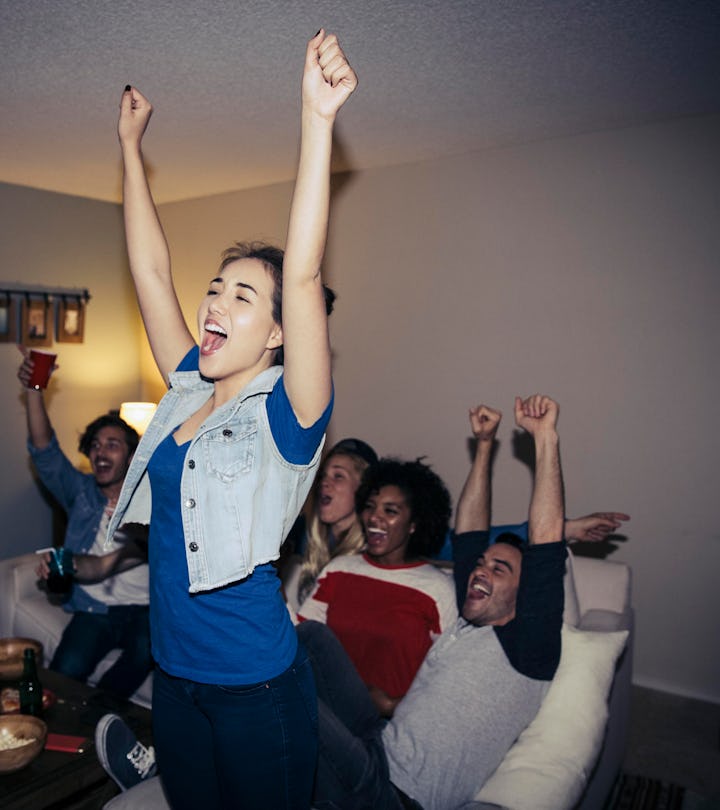 The Good Brigade, Getty images
8 Super Bowl Party Games To Play While You Watch The Main Event
For those who are in it for the commercials.
As anyone who isn't a major football fan probably knows, the Super Bowl is entertaining, sure, but it can feel a little long. If you're looking for something to do other than you know, watch the entire game, these Super Bowl games for adults are fun for everyone. On this list you'll find a wide variety of Super Bowl activities, including games everyone can get in on without missing a second of the game.
This year, the Super Bowl 56 is on Sunday, Feb. 13, 2022 (remember that Valentine's Day is the next day when you reach for that third beer) and the Cincinnati Bengals are playing the Los Angeles Rams. Dr. Dre, Snoop Dogg, Eminem, Mary J. Blige, and Kendrick Lamar are performing at the halftime show, which should be fun to watch. But if you're starting to realize just how long one 15-minute quarter can really stretch, try busting out one of these Super Bowl games that keep things lively. From bingo cards that turn the commercials into a competition, to tabletop cornhole, or good old trivia, there's a game here that everyone will love. Just be prepared for a super fan who doesn't speak to anyone during the game (everyone knows one) to refuse to play.
Read on for eight fun Super Bowl games you can play during the main event or as part of a pre-game, and don't forget to secure some great prizes in advance to make the stakes even higher.
We only include products that have been independently selected by Romper's editorial team. However, we may receive a portion of sales if you purchase a product through a link in this article.