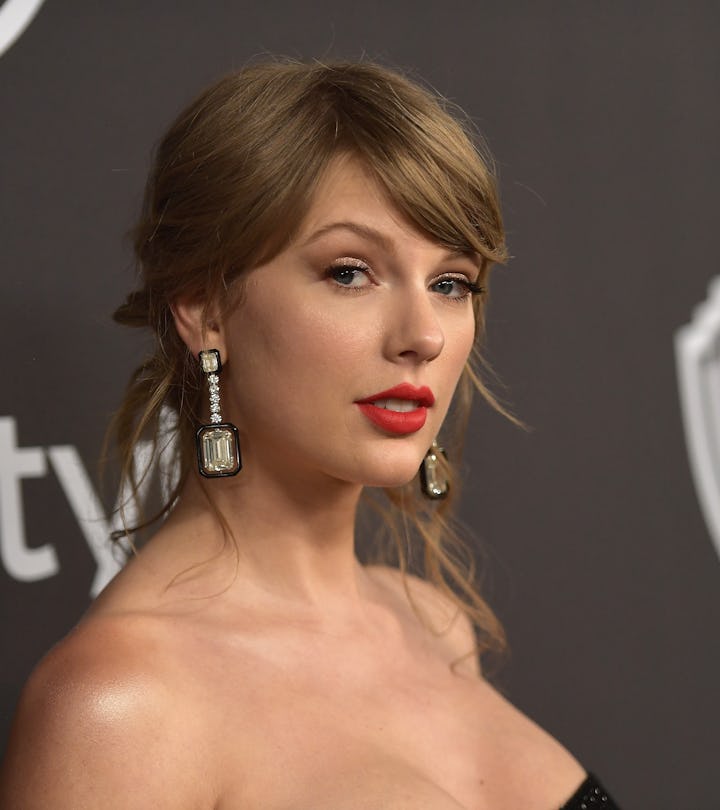 Matt Winkelmeyer/Getty Images
28 Taylor Swift Lyrics To Caption Your Valentine's Day Instagram Post
She's kind of a pro at this.
Remember in middle school when PDA was such a big deal? It feels like that on Instagram now — some couples prefer to keep their love totally private, and others will happily post a picture of them kissing in their Valentine's date night outfits. If you're team smooch-and-post but not sure what to write underneath, consider using some Taylor Swift Valentine's captions (lyrics or quotes). The queen of writing about her relationships probably has a line or two that'll send the perfect message.
As her fans know all too well, Taylor Swift is infamous for writing songs about her actual relationships. So, even if you're not a certified Swiftie, you have to admit she's the perfect go-to artist when you're looking for a love song lyric to use as an Instagram caption. And if you are a diehard fan of Taylor, well, you probably don't even need this list to know which of your favorite songs you'll pull from to post.
And if this year is not your love story year, that's OK too. Cautiously starting a relationship? There's a T-Swift song for you. Completely head-over-heels? Newly heartbroken? Jealous of his girlfriend? Just oh-so jaded about his whole love thing in general? Yep, there's big selection of Taylor Swift Valentine's captions out there for you. But for those of you looking to celebrate your lover...
Taylor Swift Valentine's captions from her songs
Taylor Swift has always been known for writing about her relationships, whether it's a revenge bop that calls out an ex, or a ballad about finding someone special. If you're looking for the perfect words to show your sweetheart you care, why not let an expert like T. Swift do it for you?
"You'll be the prince and I'll be the princess." — "Love Story"
"I wanna be your endgame. I wanna be your first string. I wanna be your A-Team." — "End Game"
"Can I go where you go? Can we always be this close, forever and ever?" — "Lover
"All I know is we said hello and your eyes looked like coming home." — "Everything Has Changed"
"But can you feel this magic in the air? It must have been the way you kissed me. Fell in love when I saw you standing there. It must have been the way today was a fairytale." — "Today Was A Fairytale"
"We never go out of style." — "Style"
"So, why can't you see? You belong with me." — "You Belong With Me"
"I see sparks fly whenever you smile." — "Sparks Fly"
"I've got a blank space baby, and I'll write your name." — "Blank Space"
"I like shiny things, but I'd marry you with paper rings." — "Paper Rings"
"It's hard to make conversation when he's taking my breath away." — "Stay Beautiful"
"They said the end is coming. Everyone's up to something. I find myself running home to your sweet nothings." — "Sweet Nothings"
"Our song is the way you laugh, the first date, 'Man, I didn't kiss her and I should have.' And when I got home, 'fore I said, 'Amen,' asking God if he could play it again." — "Our Song"
"I'm only me when I'm with you." — "I'm Only Me When I'm With You"
"You are the best thing that's ever been mine." — "Mine"
"And when I felt like I was an old cardigan under someone's bed, you put me on and said I was your favorite." — "cardigan"
"I don't know how it gets better than this. You take my hand and drag me head first, fearless. And I don't know why but with you I'd dance in a storm in my best dress, fearless." — "Fearless"
"So don't you worry your pretty little mind. People throw rocks at things that shine and life makes love look hard. The stakes are high, the water's rough, but this love is ours." — "Ours"
"You are the one I have been waiting for. King of my heart, body and soul." — "King Of My Heart"
"I'm so in love that I might stop breathing." — "Paris"
Taylor Swift Valentine's captions from her interviews
When you're as famous as T. Swift, and a good portion of your work is all about your relationships, you're going to get asked about them quite a bit too. That means that if you're not finding what you want in one of her songs, interview quotes may be where you find your perfect Taylor Swift Valentine's captions.
"When you are missing someone, time seems to move slower, and when I'm falling in love with someone, time seems to be moving faster."
"In a relationship, each person should support the other; they should lift each other up."
"For me, when I picture the person I want to end up with, I don't think about what their career is, or what they look like. I picture the feeling I get when I'm with them."
"I approach love differently now that I know it's hard for it to work out."
"I think every girl's dream is to find a bad boy at the right time, when he wants to not be bad anymore."
"I believe when it comes to love, there's something intangible about who we are attracted to, and I don't think I have a pattern."
"I was falling in love with someone who had a wonderfully normal, balanced life. We decided together we wanted our relationship to be private. I was happy. But I wasn't happy in the way I was trained to be happy. It was happiness without anyone else's input. We were just happy."
"Here's what I've learned about deal-breakers: If you have enough natural chemistry with someone, you overlook every single thing that you said would break the deal."
So, how will you share your sweet nothings with your partner today? Be sure to play them their favorite Taylor Swift song before Valentine's Day ends (bonus points if you dance to it, too).
This article was originally published on