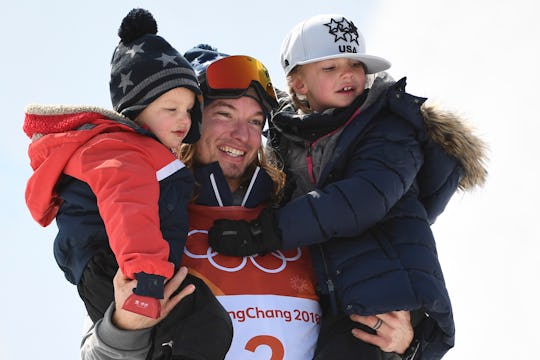 MARTIN BUREAU/AFP/Getty Images
8 Parents On Team USA To Watch At The 2022 Winter Olympics
From capturing medals to changing diapers, these Olympic and Paralympic athletes do it all.
Being an Olympian or Paralympian is hard. Between the rigorous training and workouts required to compete at such an elite level and the highly-competitive qualifying events, the road to an Olympic or Paralympic Games requires a lot of determination and hard work. Toss in the vast amount of child care duties parents are responsible for each and every day and the road becomes even more challenging. That's why the parents on Team USA may just be some of the most badass Olympians and Paralympians around. Case in point,
At least eight parents are expected to compete in the 2022 Olympic Winter Games in Beijing as members of Team USA. They include new parents like Elana Meyers Taylor and Chris Mazdzer, who welcomed children in 2020 and 2021, respectively, as well as parents of teens and adult children. Snowboarder Nick Baumgartner, for example, recently saw his teenage son crowned Homecoming King while Oyuna Uranchimeg, a member of the National Wheelchair Curling Team, celebrated her 22-year-old daughter's college graduation last year.
But no matter how young or old their kids are, these athletes are pulling double-duty as both full-time parents and full-time Olympians. Meet eight parents heading to the Winter Olympics and Paralympic Games in Beijing as part of Team USA:
To learn more about all the Olympic and Paralympic hopefuls, visit TeamUSA.org. Watch the Winter Olympics, beginning Feb. 3, and the Paralympics, beginning March 4, on NBC.