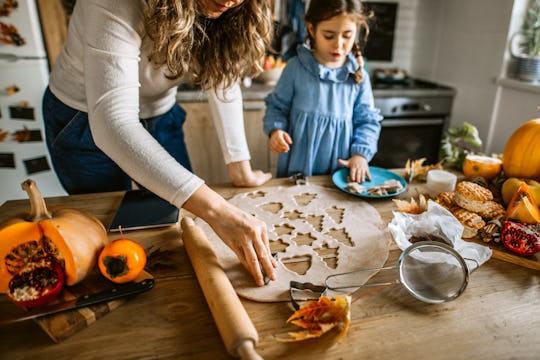 hobo_018/E+/Getty Images
18 Thanksgiving Cookie Recipes For When You're In Charge Of Dessert
Because we can't all be pie people.
Everyone has a favorite Thanksgiving dish they can't wait to dive into, whether it's homemade macaroni and cheese or a family gravy recipe that you've been eating your whole life. And, well, we all have the ones we take a spoonful of just to be polite, like the can-shaped cranberry blob and ambrosia "salad." Your Thanksgiving cookie recipe is about to become a hit, and may just dethrone your great aunt's bland pumpkin pie as the go-to dessert.
For those of you who don't much like pie, the Thanksgiving dessert options are usually pretty limited. Pumpkin pie, apple pie, pecan pie — what's with all the pies?! As Bustle reported, pumpkin pie wasn't even present at the original Thanksgiving in 1621, so it's not like it's a must-have historical dish. It became popular in the mid-nineteenth century when a widely-read magazine recommended turkey, stuffing, and pumpkin pie as the ideal T-Day spread — the article became so popular, the classic menu it's still used today.
So, consider this your formal invitation to bring a new dessert to dinner this year: Thanksgiving cookies. Instead of choking down another slice of pumpkin goo on dusty crust, grab a couple cookies to enjoy with an after-dinner espresso or hot apple cider. Need some Thanksgiving cookie ideas? Scroll on.
So, which Thanksgiving cookie recipe will you whip up for the fam this year? Be sure to bring along an extra goodie box of treats for your host if you want to say thanks, and of course, save some for yourself.
This article was originally published on