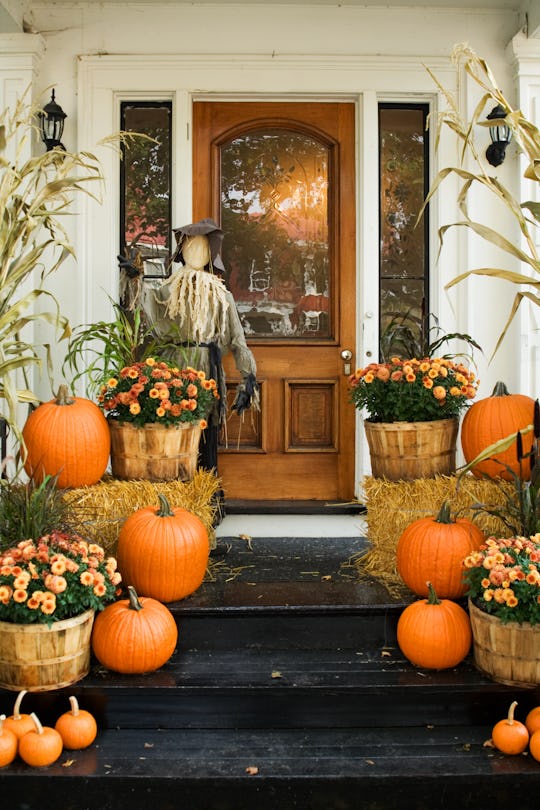 wsmahar/E+/Getty Images
Fall Porch Decor Ideas For A Festive Home In Between Holidays
Halloween and Christmas decorations get all the love, but don't sleep on Thanksgiving.
We may receive a portion of sales if you purchase a product through a link in this article.
Ah, November — a sweet time of perfectly crisp autumn weather and, for some, a little bit of a reprieve from the madness of Halloween and the family event gauntlet leading up to Christmas. If you go all out decorating for both of those holidays, it's easy to pass over Thanksgiving and think, meh, no one decorates for that anyway. But if you're hosting and want to impress, or you're just feeling the Thanksgiving spirit this year, Thanksgiving and fall porch decor can be super fun and easy to put up.
Here's the beauty of decorating your porch for fall: once Labor Day passes, you can throw out a plaid rug and an autumn wreath and call it good. There are no labor intensive light displays or gourds to carve, no faux spiderwebs full of dead leaves you have to take down after the holiday passes. It's a simple little process, one that'll make you feel a little bit more festive whenever you come and go from home. With that in mind, here are the essentials.
Fall porch decor to lay the groundwork
If you want a porch with autumn vibes, here are some fall-inspired rugs, outdoor throw pillows, and more to give you a fall-inspired base. Black Friday sales are the perfect opportunity to invest in some outdoor lanterns and flameless candles, too. With those, you can buy festive vase fillers you like and swap them out depending on the holiday. The lanterns mix in well with planters (you should have a few for seasonal flowers, like mums) and add some eye-pleasing variety.
Wreaths & garlands for fall porch decor
Even if you do absolutely nothing else to decorate, hanging a festive wreath on your front door is enough to let your neighbors know you're not total grinches. Throw a garland across the entrance and your Thanksgiving guests will definitely gush about your decorations.
Festive *moments* for your fall porch decor
If you want to throw in a little seasonal piece, or something that captures your home's vibe (farmhouse, traditional, whatever!), these are great jumping off points. A scarecrow here, a turkey there — you get the idea.
So, how will you decorate your front porch for Thanksgiving this year? It's sure to make the whole neighborhood gobble.