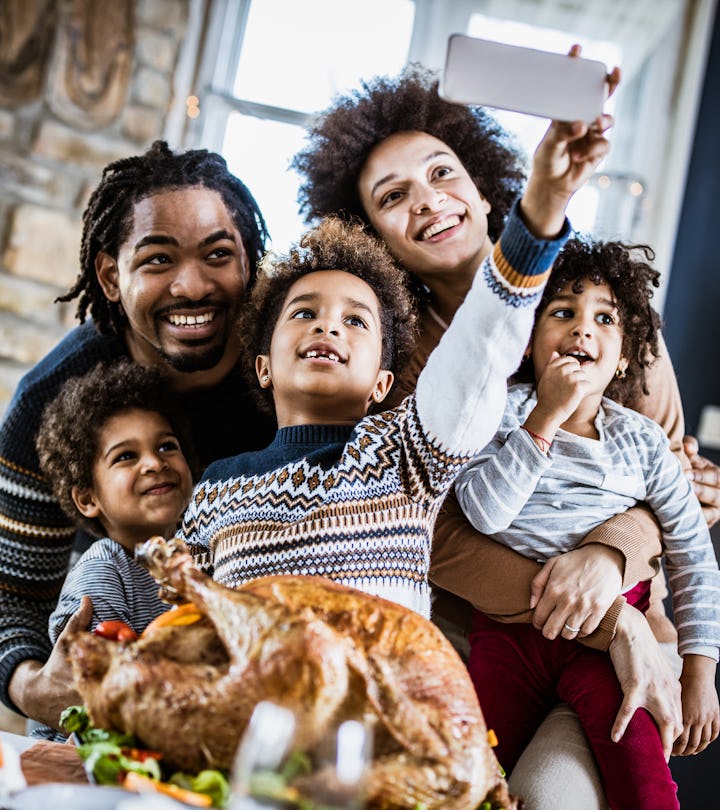 skynesher/E+/Getty Images
12 Ideas To Make Your Thanksgiving Family Pictures The Best Yet
Everybody say, "cheese potatoes!"
For some, the best part about Thanksgiving is the food. For me, it's the opportunity to make new memories with my family — especially those who I don't see often. I'm always looking for ways to document this special time together and family photos are a must. Whether you opt to hire a professional photographer for a scheduled Thanksgiving-themed photoshoot or want to capture your own snaps on the holiday, these ideas for Thanksgiving family pictures can help you create memorable images that you can cherish for years to come.
Families come in all shapes and sizes. Whether you're the type of people who get dressed to the nines and set a fancy table, like to shop until you drop on Black Friday, watch the big game together while you eat, get in a solid couch nap after you gorge yourself on turkey and yams, or all of the above, a Thanksgiving family picture should capture the true spirit of who you are as a family. After all, the holiday itself is about being grateful for what you have, so why not show off exactly that with your photo?
So, gather all your little turkeys, throw some leaves in the air, and use these ideas for Thanksgiving family pictures to inspire your own holiday photoshoot.