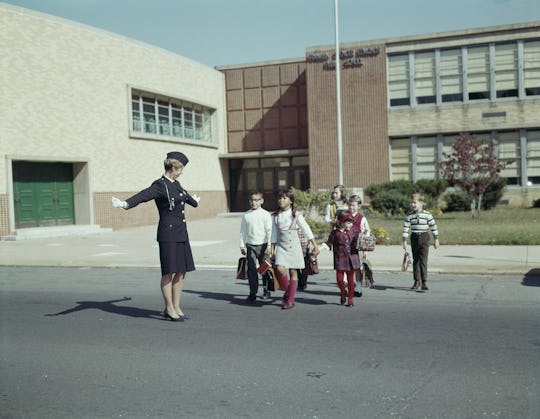 Lambert/Archive Photos/Getty Images
20 Vintage Back-To-School Photos That Are Just *Charming*
It's probably safe to say that this year's back-to-school season is unlike any other in history. However, it's worth noting that for those heading back into the classroom, elements of the beginning of the year will stay much the same. These vintage back-to-school photos beautifully capture the fact that although some things may be drastically different, the thrill of freshly sharpened pencils and brand new lunch boxes remains the same.
One of the most striking things you'll probably notice throughout this list is the evolution of school fashion over the years. Crossing guards wearing high heels, teachers in floor-length dresses, kids in oxford loafers and bow-ties, plus knee socks and bellbottoms galore. The retro looks are just glorious.
Whether riding the bus or walking, carrying a heavy backpack or their books tucked safely under one arm, the kids in these vintage back-to-school photos look primed and ready to tackle whatever the school year throws at them. Much like your own kiddos are doing today, they battled first-day jitters, donned their new school clothes, and headed out to greet their new classmates. Take a look below at how much things have changed, but also how much they've stayed the same.