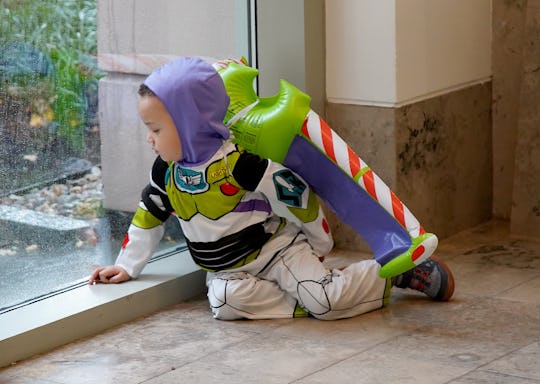 MediaNews Group/Boston Herald via Getty Images/MediaNews Group/Getty Images
15 Toy Story Costumes Your Kids Can Show Off This Halloween
We all love Toy Story. Can the adults dress up too?
Woody, Buzz Lightyear, Rex, Mr. Potato Head, and the entire Toy Story gang have given us all a good deal of memories with our families. While your kids may already play dress-up with their favorite Toy Story costume around the house, Halloween is special. And it's cool to show off something new in their neighborhood streets.
But, there are probably more costume varieties than you think. Especially because the story and characters evolved over the years. One example is Bo Peep. She began as a mysterious sweetheart with a southern accent, a princess-style dress, ruffled underpants, all topped with a dainty bonnet. By the fourth movie, she was the romping leader of stray toys, with pants, a cape, and scars to mark her rogue adventures.
Somehow the genius writers found a way for the Toy Story series to be just as relevant and heart-wrenching as it was when it first came out in 1995. So it's OK to admit that you still love it just as much as your kids. Why not go ahead and get a costume for yourself and make it a family gig?
But Halloween is quickly approaching — you don't want to drag your feet on finding the character your kids best identify with. Whether you have an infant, toddler, or big kid, one of these costumes is made with them in mind.
We only include products that have been independently selected by Romper's editorial team. However, we may receive a portion of sales if you purchase a product through a link in this article.