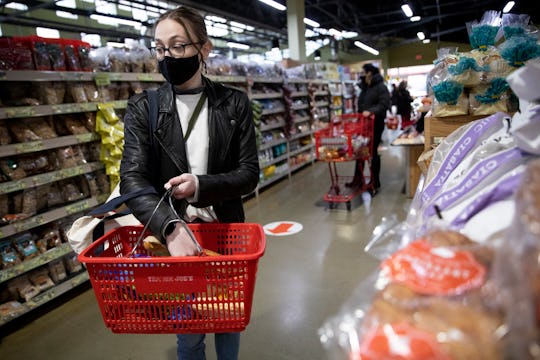 San Francisco Chronicle/Hearst Newspapers via Getty Images/Hearst Newspapers/Getty Images
These Are The Best Halloween Goodies At Trader Joe's RN
Because it's not just all about the black bean burritos, you know.
You might shop at your local supermarket for basic staples, but when it comes to fancier fare, you can't beat Trader Joe's. Cauliflower gnocchi, rose water wine, and everything croissant rolls are enough to keep you coming back to TJ's. Thing is, if you're not picking up something tasty for Halloween, you might be missing out. So when you're putting some organic watermelon fruit spread in your shopping basket, be sure to check out these best Halloween treats from Trader Joe's, too.
There are some stores you shop in to buy in bulk, but Trader Joe's isn't really one of them. Sure, you might stock up on the mandarin orange chicken and store it in your freezer for those nights when you just can't bear the thought of cooking. Or you might pick up an extra Unexpected Cheddar Cheese wedge to snack on during the day or when the kids are in bed, but really, TJ's, with its organic (and adult) food options, well it's just more of an elevated food experience. You won't find huge bags of candy to toss into trick-or-treaters' bags; rather, the treats you'll find at Trader Joe's are fancier fare that you'd serve at a Halloween soiree. Because handing out organic dried mango to a 2-year-old as a treat for their loot bag is going to get you some looks — and not the good kind.
So if you're looking to have something yummy for your freakish friends and family to feast on, you can't beat these best Halloween treats from Trader Joe's.
If you're looking for the best Halloween treats from Trader Joe's, you can find plenty of distinctive flavors, kid-friendly foods, organic options, and treats that you just can't find anywhere else.