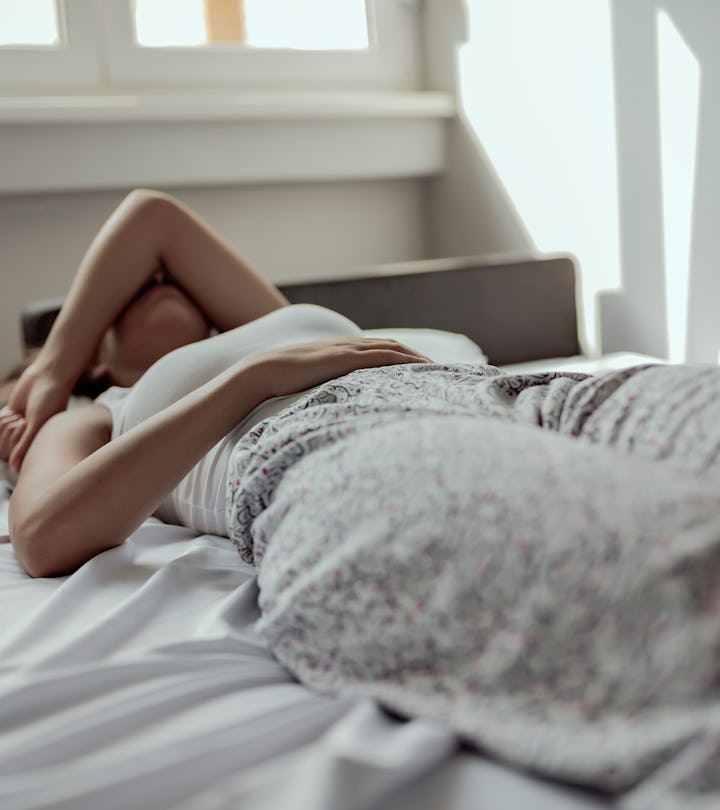 PixelsEffect/E+/Getty Images
Why Your Vagina May Be Sore After Sex
An OB explains what you can do about it.
Sex with your partner can be incredibly fulfilling. It can be loving and long, or an after-bedtime quickie, and anything in between. Unfortunately, the euphoria can quickly fade when you notice your vagina becomes sore in the minutes after. You might wonder what exactly happens and why your vagina sore after sex sometimes? We spoke with Dr. Kiarra King, a board-certified obstetrician-gynecologist, about why your vagina may be sore after sex, and what you can do about it.
Why your vagina is sore after sex
Sure, you probably already know that not being lubricated enough during sexual intercourse can make having sex uncomfortable — and that's no good — but it can actually be the reason for post-sex discomfort too. Some women "may deal with a lack of lubrication during intercourse which can lead to friction and subsequent soreness," explains King. Typically, a long or extra energetic session in the sack can cause more friction if you are not well lubricated, which can lead to soreness or irritation after. There are lots of lubes out there, and most couples benefit from having one on-hand for when the mood strikes, or the session goes long. There's truly something for everyone — there are even pregnancy-safe lubes out there.
Lack of lubrication is probably the simplest reason why you'd be sore after sex, and the easiest one to remedy. However, it's not the only cause. If soreness after sex is an on-going issue for you, it's a good idea to contact your OB-GYN or other health care provider about what may be going on. And know that you can — and should — speak up about sex that's uncomfortable for you, both to your partner and your doctor. "For some, soreness may be related to choice of sexual positions during penetrative intercourse," explains King. "Others may have pelvic pathology such as endometriosis or fibroids that can leave the vagina sore after sex."
How to feel better
The bottom line is that persistent pain isn't normal, and everyone deserves to feel good (and only good) during and after sex. If you've ruled out a medical issue, avoiding soreness after sex may simply down to making sure you are properly lubricated. Is your partner penetrating you too early? Many women need 15 to 20 minutes of foreplay before they are naturally lubricated enough for intercourse. Sometimes, however, you might still needed added lubrication, so using a bottled lubricant is another great option.
"People may find relief in more comfortable positions, the use of a vaginal lubricant and of course checking in with their doctor or pelvic floor physical therapist for evaluation," suggests King.
You should also be careful to notice if the soreness after sex occurs after using certain hygiene products, condoms, or spermicides, which could also account for your irritation. If, however, your pain lasts longer than 24 hours and is accompanied by bleeding or unusual discharge, you should give your gynecologist a call.
Expert:
Dr. Kiarra King, a board-certified obstetrician-gynecologist, and an OLLY ambassador
This article was originally published on