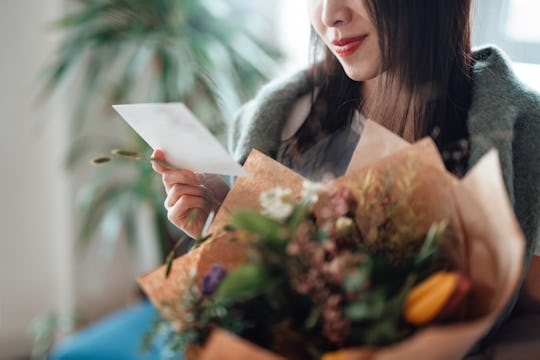 Oscar Wong, Getty images
10 Sweet Valentine's Day Poems For Moms Who Have A Thing For Words
Let a poem do the talking.
My mom, like many of us, has never been terribly excited about Valentine's Day. She doesn't care about flowers or chocolates or any of the typical Valentine's Day chum. But as an English major and a former English teacher, poetry is her love language. I've narrowed down a whole lot of fluffy poems to create this lovely list of Valentine's Day poems for moms, because that's exactly what my mom will be happy to see in her mailbox this holiday — so long as it's attached to a good stack of photos of her grandkids.
Your own mom might not be the only person you're on the lookout for sweet Valentine's ideas for. Maybe you're on the hunt for a sentimental option for your wife or your kids' mother. Straying away from the traditional card and flowers combo can be a little daunting at first, but this list of poems offers quite a range that might speak to your unique relationship with the special mom in your life.
Whether you tuck a handwritten version of any of these poems into a bunch of flowers or tape them atop a heart-shaped box of chocolates, if your number one mom has a thing for poets, these these words are the sweetest gift she could receive on Valentine's Day.
Whether your mom or mother-in-law is a poetry fan or you're looking to express your love for your mom on Valentine's Day but words aren't coming easy, a poem that relays your feelings is always a thoughtful gift. You could even consider buying a poetry book with a bookmark on the poem you want her to read.