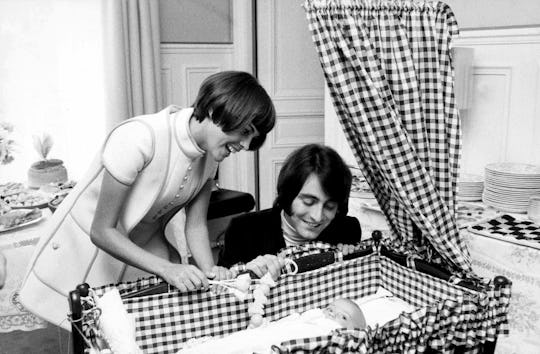 PICOT/Gamma-Rapho/Getty Images
Vintage Baby Nurseries Full Of Darling Details
Can we please bring back wallpaper and paintings on the sides of cribs.
Every mom-to-be daydreams about her baby's nursery, whether it's her first child or her third. There's just something about nesting and creating the perfect little haven for your baby that really gets a mom going. And finding photos of vintage baby nurseries might even inspire you to go back to the good old days of ridiculously bright wall hangings and wallpaper covered in baby chicks and bunnies.
OK, so maybe we shouldn't bring back all of the extra frilly crib bumpers and blankets and pillows — you absolutely want to follow safe sleep guidelines. But there are some really cute trends that have faded over the years and I think we should bring back. Like actual rocking chairs instead of gliders, and hand painted deer or bunnies or cherubs on the sides of cribs. (Also, we can keep drop-side rails in the past where they belong.)
But of course, the beauty of motherhood is evident in every baby nursery, no matter when the picture was taken. It takes a lot of work to put together a sweet room for your baby, and you're in good company with these mamas who just wanted a safe, lovely place to put their baby to sleep — and maybe with a very specific animal theme, too.