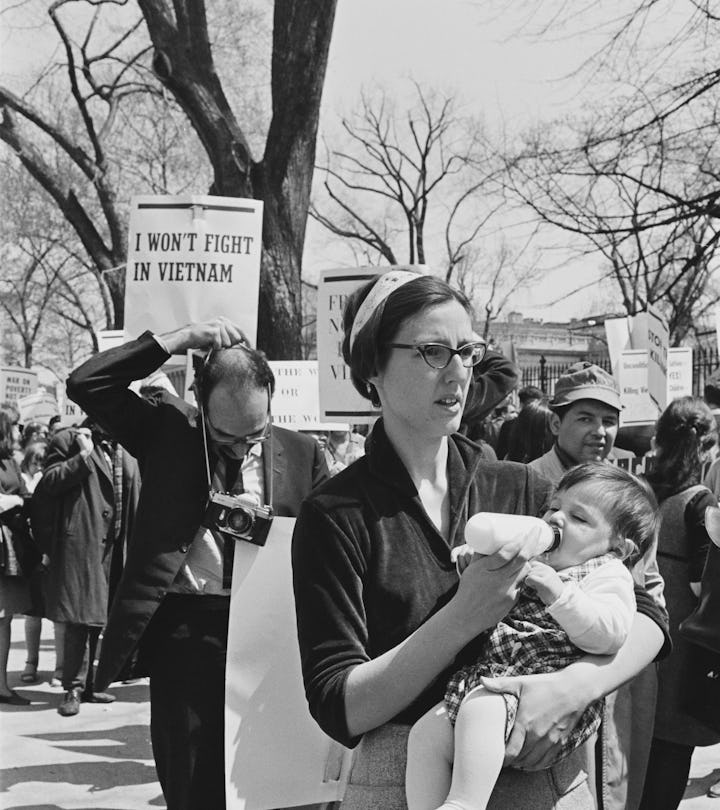 Michael Ochs Archives/Michael Ochs Archives/Getty Images
30 Vintage Photos Of Parents Giving Their Babies A Bottle
Some things never change, and making sure your child is fed knows no time period.
While the parenting styles, societal norms, and toys may have changed (hello, screen time), there are many things about motherhood that never will. Ensuring your child is fed is definitely a universal trait, and bottles especially have been around for a while. Looking back in vintage photos shows how far we've come in the bottle manufacturing department (some of these old bottles look pretty unsafe — I can't imagine my kid throwing a glass one to the floor when they were fussy), but they also reflect certain moments in time — whether it's feeding your child during civil unrest, showcasing your diverse family, or showing how the power of science can bring miracles (as evidenced by the multiple photos of test-tube babies surviving and thriving).
These families chose to bottle feed their children, whether it's because they were adopted, the parents were working with the birth of multiples, or if it was just their preferred way to feed their kids, it doesn't matter. It's as simple as that. If you bottle fed your children, you may find glimpses of yourself in any number of these photos, whether it's the knowing smile and look of pleasure while you're bonding with your baby, or the look of exhaustion and your eyes saying, "What the hell did I get myself into?" There's nothing quite like trying to warm a bottle in the dark of your kitchen after 90 minutes of sleep.
We've all been there, no matter how you feed your babies. The bond you form with your children and the exhaustion you feel is universal. And these photos definitely show all aspects of this crucial part of parenting. It's timeless.