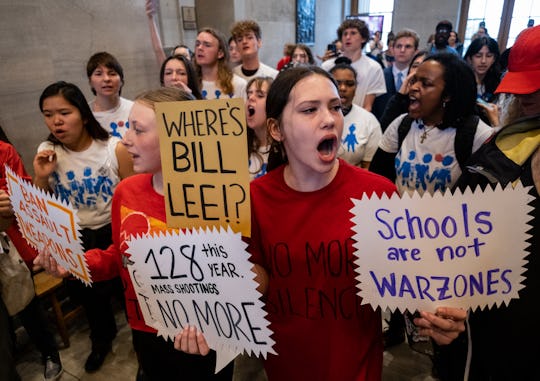 Seth Herald/Getty Images News/Getty Images
Teens Chant "Kids Are Still In Body Bags" At Protest For Gun Safety In Viral Video
In the wake of the Covenant School shooting, students, parents, and teachers marched to the Tennessee State Capitol to demand stricter gun laws.
Every day since a shooter killed six people — three children and three adults — at Nashville's Covenant School on March 27, gun safety advocates from organizations like Moms Demand Action and March For Our Lives have been a near-constant presence at the Tennessee State Capitol building. Then, this past Monday, over 1,000 students in the Nashville area participated in a collective walk-out. At 10:13 a.m. (the same time the Covenant School shooter opened fire) students walked out of their respective schools and marched to the capitol, calling for stricter gun laws.
When the student protesters reached the capitol, things got a bit hairy. Tennessee State Rep. Gloria Johnson, explained to PBS that "we wanted to welcome the protesters there. We wanted to honor the issue they were talking about. And we were not given the opportunity. ... So, we decided that, between bills, we were going to walk to the podium and thank the protesters for being there, acknowledge the issue of gun violence."
Johnson and two other lawmakers spoke briefly before their microphones were shut off and they were "silenced." Outside, though, the student protesters chanted on, as you can see in this viral video, shared by Nashville reporter Courtney Allen.
"You banned books. You banned drag. Kids are still in body bags," teens passionately chanted over and over.
In response to being "silenced" by having the microphone turned off, three state representatives caused the legislative proceedings to stall out by taking the floor and chanting "no action, no peace" in solidarity with the students protesting at the capitol. In the days since, as the state legislature reacted to the protests by moving to expel the elected officials from their seats, the three representatives who spoke out on behalf of the protesting teenagers and parents have come to be called "The Tennessee Three." They are:
State Rep. Justin Jones, who only took office in January of this year. Rep. Jones has been perhaps the most vocal of the three, and was expelled from his seat in the House of Representatives on Thursday afternoon. An expulsion of an elected official in circumstances like this is nearly unprecedented.
State Rep. Justin J. Pearson, who is from Memphis, was elected in January and has only been in office since March 28. Pearson was also expelled on Thursday.
State Rep. Gloria Johnson is a retired school teacher from Knoxville, Tennessee with almost three decades of experience working with children with special needs. Johnson, however, was not expelled from her seat.
Ousted state representatives can run again for their seats in the special elections that will be held to fill their now-vacant positions. What happens next really, though, is anybody's guest, but it's clear this is a crucial moment in which tensions around gun violence are coming to a head. When asked by local reporter Courtney Allen why she thought she held on to her seat and Jones and Pearson did not, Rep. Johnson told Allen, "It might have to do with the color of our skin."