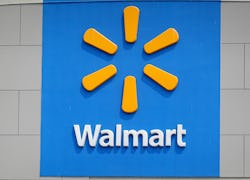 Walmart's Fourth Of July Hours Are Super Convenient
Scott Olson/Getty Images News/Getty Images
Can you still get those low, low prices even on July 4?
It never fails. You think you've got everything you need for your big event — such as a Fourth of July barbecue. You feel like you've checked and checked again. But of course, the morning of, you realize your mustard and ketchup has finally expired and four people just RSVP'd late and you need more seating. You also realize you're going to need even more sunscreen because it's hotter than hot out there. If only there was a store where you could buy all of your last-minute items in one place. Wait, there is. It's Walmart, of course. So you're probably wondering at this moment about Walmart's Fourth of July hours. And don't worry, as usual, Walmart's got you covered.
Is Walmart open on the Fourth of July 2023?
Luckily for us, Walmart will be open on the Fourth of July 2023 for their regular hours (which vary by location). In fact, the only holidays this big-box superstore is closed are on Thanksgiving Day, and Christmas Day. Otherwise they have limited hours on Christmas Eve. And even though this sale is already going on now, if you suddenly decide you do indeed want to take advantage of those sweet Walmart Fourth of July deals the day of — like grabbing an extra patio chair or bag of buns for your cookout, Walmart's got you covered.
Walmart Fourth of July deals
As usual, Walmart will have plenty of Fourth of July deals on everything from festive holiday decorations to grills to swimwear.
So head over to Walmart for those killer rollback deals, and grab the new ketchup and mustard, sunscreen, and patio chairs you need for your big Fourth of July barbecue bash. They'll be open and ready for you.
This article was originally published on