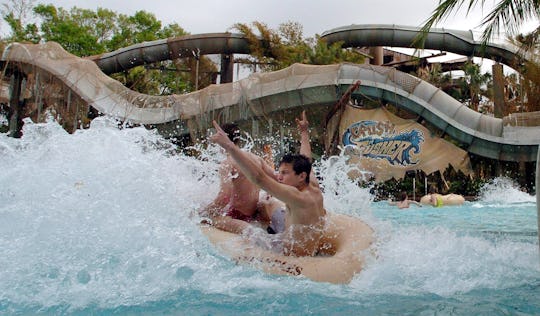 Orlando Sentinel/Tribune News Service/Getty Images
Disney World Now Has Seasonal Water Park Passes & They're More Affordable Than You Think
The price is only $10 more than a one day pass.
If you've ever wanted to go to Disney World in Orlando, Florida and simply visit the water parks, you'll be excited to hear that's going to be even easier to do in the near future. Because Walt Disney World is introducing seasonal water park passes, which are set to be priced at just $10 more than a single day pass to the water parks. So if you go just twice, you'll already be saving lots of money. And having fun while doing it.
Walt Disney World launched new seasonal water park passes in September, and they are reasonably priced at $79 per adult and $73 for kids between the ages of 3 to 9 years old. Which would put adults at 10 years of age and up. Considering single day passes cost $69 per adult, that's a pretty great deal.
These seasonal water park passes give access to either Disney's Typhoon Lagoon or Blizzard Beach, whichever one is open, from the end of September through to May 24, 2024. As of the end of September, Blizzard Beach is closed while Typhoon Lagoon remains open, and it certainly seems like there is plenty of fun to be had there for the day. Water slides, Miss Adventure Falls whitewater adventure, a surf pool, and Ketchakiddie Creek for safe funs for the little ones. Plus parking is complimentary and there are casual dining options (think burgers, ice cream, and even beer and wine) on site, so it's really a win/win for everyone with this seasonal water park pass.
Offering visitors the chance to check out Disney World's water parks at a discounted rate will come as welcome news to Disney fans who have been struggling with the price increase over the past year. In 2022, Disney Parks increased their prices for the first time since 2019 after the parks were forced to close for a significant amount of time due to the pandemic. The price hike was pretty significant, with park-specific one day, one park pricing jumping an average $50 per day, depending on the park. This price increase could potentially be to blame for the decline in visitors over the past year, although to be fair there are a number of factors that could have contributed to the change.
Now families can spend the day at Disney World's water parks as often as they like without spending extra money. A pretty great deal, especially if you happen to live close by.