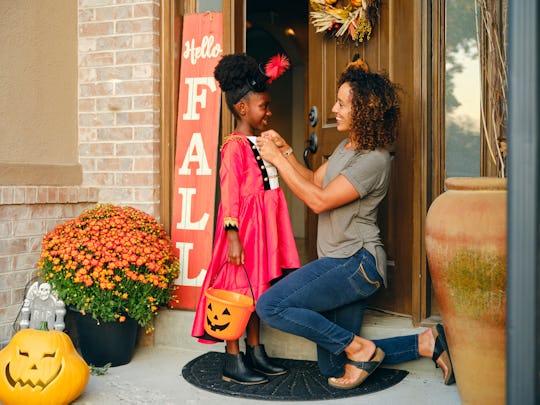 RichLegg/E+/Getty Images
16 Warm Halloween Costumes For Kids, Toddlers, & Babies
Costumes that look cool, but keep them warm.
When you're a kid, you plan exactly what you want to be for Halloween for ages before the calendar ever rolls over to October. So, naturally, the biggest downer as a kid is when your mom or dad forces you to wear a jacket over top of the costume you've been daydreaming of wearing.
Fashion is pain, right? I remember as a 9-year-old girl, my mom ordered me this pop star costume I'd seen in a catalog and I looked forward to putting on my fancy armbands and headset mic for months. If the weather had been cool enough to need extra layers that year, I shudder to think of the battle she would've been in for trying to put a turtleneck under my stage-ready crop top.
If you're taking kiddos trick-or-treating on a blustery evening, help them pick out a costume they'll love that will keep them warm without the help of their boring old hoodie or hat. Then, you won't have to worry about them freezing their tiny fingers and toes off, and you won't have to hear about how Elsa didn't wear a jacket or how Spiderman doesn't need mittens.
We only include products that have been independently selected by Romper's editorial team. However, we may receive a portion of sales if you purchase a product through a link in this article.