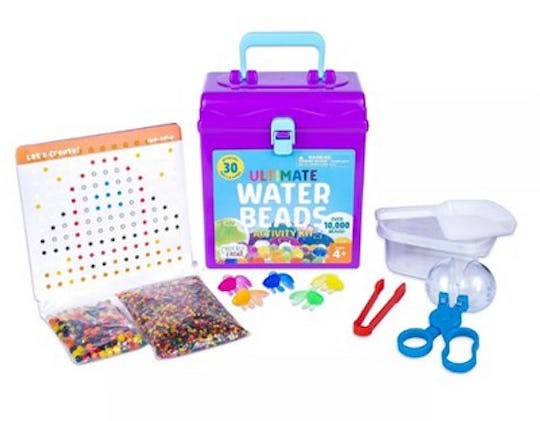 Target
Water Beads Kit Sold At Target Recalled After 10-Month-Old's Death
The beads can expand and obstruct breathing if ingested.
A water bead toy activity set sold at Target has been recalled after a 10-month-old baby died and another injury was reported. More than 50,000 of the water bead sets made by New York-based company Buffalo Games are being taken off the shelves for fear of choking, ingestion, and obstruction hazards.
The U.S. Consumer Product Safety Commission (CPSC) issued the recall in partnership with Buffalo Games of the Chuckle & Roar Ultimate Water Beads Activity Kits. Approximately 52,000 of these kits, which are filled with soft, squishy beads that are intended to provide sensory play for small children because of their malleable texture, were sold exclusively at Target stores across the country and at Target.com.
The Chuckle & Roar Ultimate Beads Activity Kits were recalled after a 10-month-old died in Wisconsin as a result of choking on these beads in July 2023. Buffalo Games also received a report that a 9-month-old in Maine was seriously injured in November 2022 after ingesting the beads, according to the CPSC.
Target released a statement regarding the recall, explaining on the company website, "If a water bead is ingested, it expands and can pose ingestion, choking and intestinal obstruction hazards inside a child's body, resulting in severe discomfort, vomiting, dehydration and a risk of death to a child."
The Chuckle & Roar Ultimate Beads Activity Kits are sold in a purple plastic bucket and the age recommendations for 4 years and up. These kits include two ounces of jumbo water beads and six ounces of regular water beads. The kits also include a clear container and lid, and there are five small toy fish, a scissor scoop, tweezers, a scoop with a handle, 10 activity cards and instructions. The Chuckle & Roar Ultimate Beads Activity Kits sold for $15 at Target and at Target.com between Mark 2022 and November 2022 with the UPC Number 079346627035 on the back.
The company is offering a full refund for the items sold and is asking consumers to take them away from children immediately. Customers who bought the Chuckle & Roar Ultimate Beads Activity Kit can contact the company for a full refund and instructions on how to return the product, or take the product into Target to receive a refund there.
For more information, you can contact Buffalo Games toll-free at 800-637-0732 from 9 a.m. to 4:30 p.m. ET Monday through Friday, email at beadrecall@buffalogames.com.