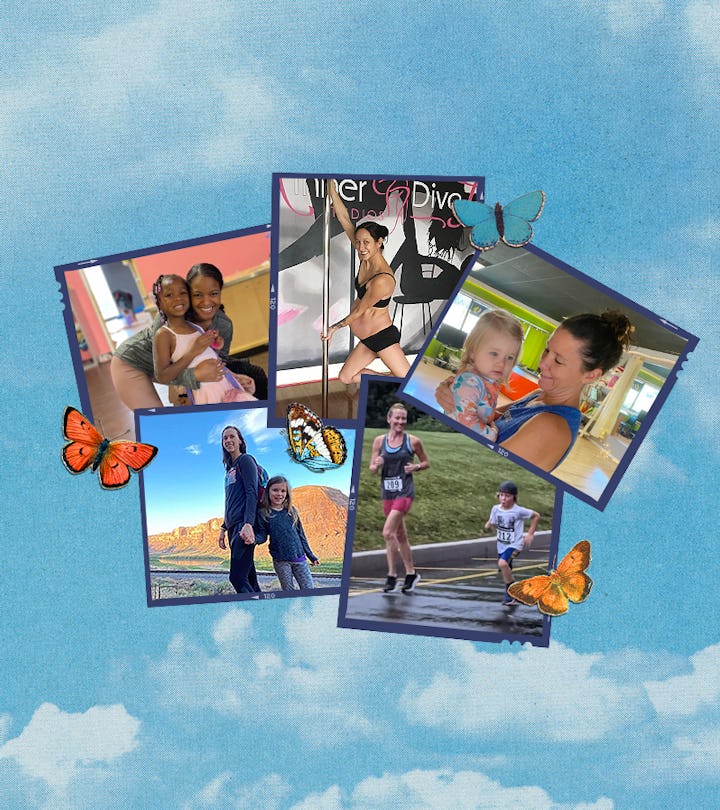 10 Moms Share What Actually Motivates Them To Exercise
Finding time (and motivation) to exercise can be hard for anyone. Here's what works for these moms.
I don't have to tell you how hard it can be for mothers to exercise. Between hungry infants, toddlers constantly underfoot, chatty grade schoolers, and tweens and teens who need to be ferried to 17 different activities throughout the week — not to mention jobs, friends, a litany of domestic chores, and on and on — I consider it a small miracle that parents ever exercise at all. So I asked 10 mothers how they find the time and motivation to move their bodies when there's so much else clamoring for their attention.
Before we go any further, I want to assure you that this isn't a #NoExcuses #Hustle #Fitspo #NoPainNoGain article. I am going to accept all the excuses. Yoga doesn't exactly hit the same when you have a toddler climbing on your back when you're in downward dog. Gym membership might not be in the cards when you're spending several thousand dollars on day care every month. I myself didn't start incorporating exercise into my daily life until my children were older, more self-sufficient, and understood the concept of "leave me alone for 30 minutes."
For me, exercise was about a lot of things: reclaiming my body after years of pregnancy and breastfeeding followed by another few years of an undiagnosed (and uncontrolled) chronic illness. It was about my mental health and the grudging acceptance that while bodies will always get the last laugh, things generally go more smoothly if you give your body movement and the occasional vegetable. What began as an obligation, though, turned into something I truly enjoy. Simply put, I like the way I feel after a long hike or haplessly flailing along to a YouTube workout. I'm proud of the fact that I don't feel like complete trash after 30 minutes of cardio anymore. I like that I'm showing my kids that movement can be a priority, but also fun.
Of course, motherhood isn't the only lens through which we process the world. But let's also be honest: when you're a parent, your children are (at the very least) on the periphery of all your decisions. While kids were often central to the decision these moms made about exercise — they wanted to take care of themselves for their children, serve as role models, or just get away from their kids for a little while — there are also so many other factors that came into play.