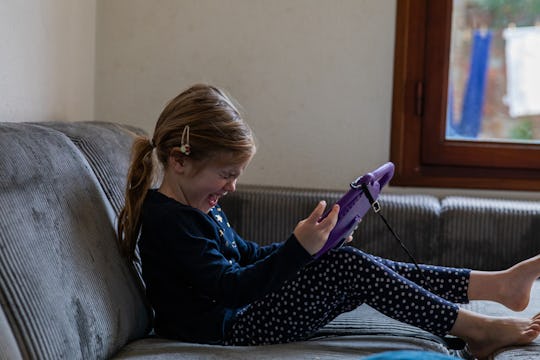 Lisa Wiltse, Getty Images
Why Your Kid Is Acting Out More During Distance Learning, According To Experts
They fidget. They fuss. They squirm in their seat. If you're finding that your student is struggling to learn from home, you're not alone. Having to facilitate their studies while still trying to get 1,000 other things done during the day isn't easy on anyone, and it's easy to lose it when your little learner is more interested in interrupting your work Zoom call than focusing on their class work. But there are reasons why your kid acts up more during distance learning than at school — and some of the answers might surprise you.
The world is topsy-turvy right now, and trying to get your child to learn remotely is rough.
"Most children are learning from home for the first time in their lives, bringing up new relational challenges for parents and children regardless of age," says Beth Tyson, MA, a psychotherapist and childhood trauma consultant, tells Romper in an email. "Adults are struggling with the frustration of meeting their children's emotional needs while also keeping them on track academically." Now, add to that job (and just overall life) stress, and it's creating chaos that wouldn't necessarily occur if your kiddo were still in a classroom and not, say, studying at your kitchen counter.
Before you send your kid to detention, here are just a few reasons why they might be more annoying than usual.