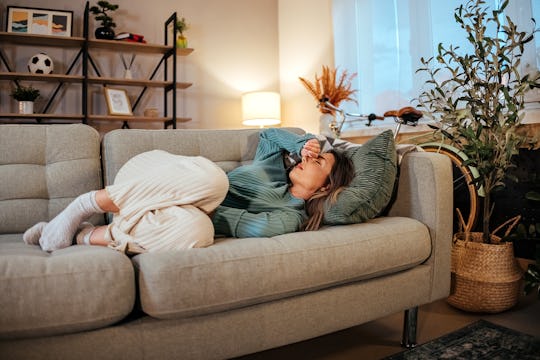 eclipse_images/E+/Getty Images
Why Is My Discharge Brown? Experts Explain
For the most part, it's pretty normal. Period.
More often than not, your vagina lets you know how healthy it is by the color of the discharge it secretes. (Clear or white equals normal, FYI.) And while you can expect to see some red discharge when you have your period, other colors might leave you clueless. So if you spot some dark spots in your underwear and wonder, "Why is my discharge brown?" you can rest easy. For the most part, brown discharge is perfectly fine.
What does brown discharge mean?
When it comes to vaginal discharge, the colors can really rock the rainbow. Secretions can be in all different shades of white, green or gray, pink, red, yellow — and it can even come out clear, too. But when you wipe yourself and brown shows up on your TP, try not to panic, advises Dr. Greg J. Marchand, M.D., FACS, FACOG, FICS, a board-certified OB-GYN and accredited master surgeon.
"Brown vaginal discharge is almost always going to be the result of old blood leaving the vagina," explains Marchand. "Blood turns brown rather quickly when leaving our body's circulation, usually in a number of hours." So why doesn't blood turn brown during your period? Well, during your period when you're experiencing a significant amount of consistent bleeding, the blood will exit the vagina still red, Marchand explains. But if the bleeding is less or the blood is older, it can be brown in color. And it doesn't take much brown blood to discolor vaginal secretions, rendering a brown discharge.
Where is the blood coming from, though? From a few potential places, actually. "Cervical bleeding, uterine bleeding, or even vaginal bleeding can turn your vaginal discharge into a brownish color," Dr. Amir Marashi, MD, FACS, FACOG, a board-certified OB/GYN tells Romper. "What women need to know is that usually right before their period starts, they may see some dark brownish mucus or discharge. This can also happen before a woman goes into labor, too, which is the mucous plug."
What causes brown discharge?
Brown discharge can often signal that your period is on its way or just about to end. "Many times, brown discharge is just mid-cycle spotting, or it comes before and/or after menses," Dr. Lauren Demosthenes, M.D., a board-certified OB-GYN and Senior Medical Director with Babyscripts explains to Romper. "It's not a cause for alarm."
Brown discharge can also occur if you've recently had sex. "A brown discharge can also happen the next day or a couple of days after having intercourse," adds Marashi. "With deep intercourse and cervical stimulation, sometimes it can cause bleeding from small vessels on the cervix or even inside the vagina." And because of that, the bleeding can tint your discharge brown.
Although it is the most common source, the uterus is not the only source of blood in the vagina, adds Marchand. "Occasionally a lesion on the vagina itself, or the cervix, can bleed and create a brown discharge as well."
When should you be worried about brown discharge?
It can be hard to know if your brown discharge is just a normal part of your menstrual cycle, or if it's something else. Fortunately, your vagina will let you know if the discharge needs to be discussed with a doctor. "If there is any odor or foul smell, make sure you consult with your gynecologist," advises Marashi.
And if the brown discharge doesn't disappear after a few days, you might want to dial your doctor as well. "If you repeatedly have a brown discharge, particularly if it's not related to your menstrual cycle, that should eventually be brought to the attention of a doctor," says Marchand. "This is true of any bleeding outside the menstrual cycle that lasts more than a few months and is most important for women who are older than 45 or suffer from obesity." Says Marashi: "It could be a sign that the source of bleeding is coming from inside your uterus, cervix, or vagina."
Lastly, certain bacteria can create a brown discharge as well, and this change in the bacteria in the vagina can sometimes be a form of bacterial vaginosis. "If brown discharge presents with irritation, that should be brought to the attention of a physician because it is possible that you may need an antibiotic to help those symptoms resolve," Marashi adds.
When should you see a doctor for brown discharge?
While brown discharge is normal from time to time, it can take a turn for the worse — and you'll need to take action. "If spotting/brownish discharge is constant, then it needs to be investigated," says Dr. Maria Sophocles, M.D., FACOG, NCMP, a board-certified OB/GYN and Medical Director of Women's Healthcare of Princeton, NJ, "While unlikely, it could be a sign of a polyps or even a tumor."
Additionally, brown discharge can be attributed to an infection. "Infections such as a yeast infection, bacterial vaginosis, and trichomoniasis can cause bleeding from the vaginal walls that will cause discharge," adds Sophocles. It can also be a byproduct of a sexually transmitted infection (STIs) as well. "Any type of unusual discharge can also be a sign of an STI or even a malignancy," says Demosthenes. "If the discharge is accompanied by pain, fever, or if you've had a new sexual partner, an evaluation should be considered."
Brown discharge typically isn't anything to really worry about, particularly when it's around the time of your period. But if you have any other symptoms (or the brown discharge doesn't stop), speak with your healthcare provider so that you'll have a happy and healthy vagina again.
Study referenced:
Bishop, G. (1990) Vaginal Discharge, Clinical Methods: The History, Physical, and Laboratory Examinations. 3rdedition, https://www.ncbi.nlm.nih.gov/books/NBK281/
Experts:
Dr. Greg J. Marchand, M.D., FACS, FACOG, FICS, a board-certified OB-GYN and accredited master surgeon
Dr. Amir Marashi, MD, FACS, FACOG, a board-certified OB/GYN
Dr. Lauren Demosthenes, M.D., a board-certified OB-GYN and Senior Medical Director with Babyscripts
Dr. Maria Sophocles, M.D., FACOG, NCMP, a board-certified OB/GYN and Medical Director of Women's Healthcare of Princeton, NJ