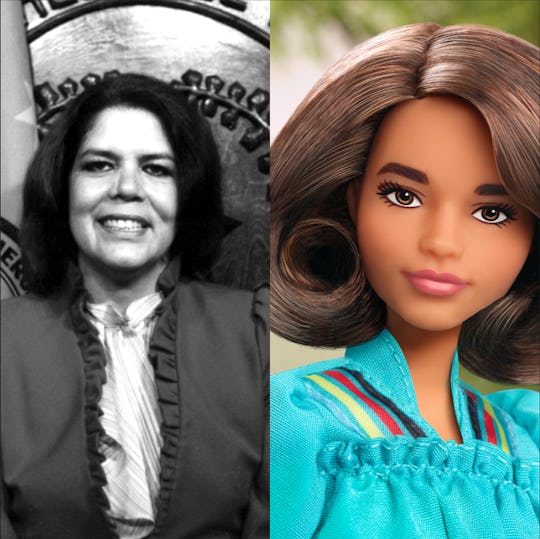 Mattel
Barbie Honors Wilma Mankiller, Female Chief Of The Cherokee Nation, With Her Own Doll
Makiller is the latest to join the Barbie Inspiring Women Series.
In 1985, she was elected the first female Principal Chief of the Cherokee Nation. A social worker by training, she was a determined advocate for social justice who worked for 10 years in her distinguished position to empower indigenous communities and help make the world brighter for future generations. And now, Wilma Mankiller is joining the ranks of the Barbie Inspiring Women Series with a doll fashioned in her likeness, following in the tiny doll footsteps of other luminary women like Anna May Wong, Bessie Coleman, Jane Goodall, and Frida Kahlo, among others.
Mankiller's decade as Principal Chief were marked by her deep commitment to Cherokee self-determination and the cultural value of "Gadugi," which describes a community-wide effort to work for a greater good. Not only did she successfully revitalize the Nation's tribal government, she helped to improve healthcare, housing services, educational achievement, and infant mortality rates within the Cherokee Nation. In 1998, she was awarded the Presidential Medal of Freedom for her efforts. Mankiller passed away in 2010 at the age of 64 after a battle with pancreatic cancer.
"When Native girls see it, they can achieve it, and Wilma Mankiller has shown countless young women to be fearless and speak up for Indigenous and Human rights," Chuck Hoskin Jr., current Cherokee Nation Principal Chief, said in a statement. "She not only served in a role dominated by men during a time that tribal nations were suppressed, but she led. Wilma Mankiller is a champion for the Cherokee Nation, for Indian Country and even my own daughter. She truly exemplifies leadership, culture and equality and we applaud Mattel for commemorating her in the Barbie Inspiring Women Series."
Barbie worked with Wilma Mankiller's estate and the Cherokee Nation, as well as Mankiller's friends and family, to ensure that the doll captured the essence of who she was. The doll's look is primarily inspired by a photograph of Mankiller taken by her husband, Charlie Soap, in 2005. The ribbons on her striking turquoise dress represent north, south, east, and west.
"Wilma inspired me and many others to make the world a better place," says Soap, who also worked with Barbie on the doll. "Wilma inspired me and many others to make the world a better place. As her community development partner for over thirty years, we shared a passion for empowering Indian communities and educating future generations. The Wilma Mankiller Barbie doll is an incredible tribute to Wilma that will share her legacy with even more people."
Kristina Kiehl, a film producer and Mankiller's close friend, agrees that having a "Wilma Barbie" is a fitting tribute to the former chief.
"Wilma's impact on women's rights and her strength to break down barriers continues to be an inspiration for women and girls in Native communities throughout our world," she says. "Wilma always brought others to the table with her and she would be very happy that Mattel is including other indigenous dolls."
Furthermore, Barbie will contribute $25,000 to The American Indian Resources Center to honor Mankiller's devotion to Native American and women's rights. The Center seeks to provide cultural and educational opportunities to nurture the cultural preservation and growth of indigenous communities.
The Barbie Inspiring Women Wilma Mankiller doll is available now.