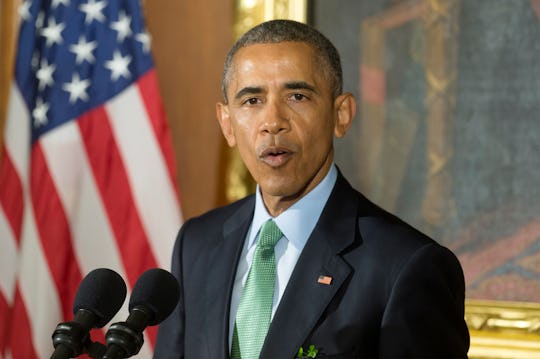 Pool/Getty Images News/Getty Images
Obama Will Nominate Merrick Garland To The Supreme Court
The White House officially confirmed Wednesday morning that President Obama will nominate Merrick Garland to the Supreme Court, and the choice shouldn't be too much of a surprise to anyone. Garland, a U.S. Court of Appeals for the District of Columbia Circuit judge and former prosecutor, has actually been considered by Obama for a Supreme Court nomination twice before. This time around, Garland will be nominated for the vacancy left by long-time justice Antonin Scalia who died in February.
Garland should be in for an interesting ride, as Senate Republicans have publicly vowed to bar any SCOTUS nomination put forth by Obama. The rationale being that the nomination should be left up to the next president, an idea Obama was quick to dismiss according to the Washington Post:
This is the Supreme Court, the highest court in the land. It's the one court where we would expect elected officials to rise above day-to-day politics. I understand the stakes. I understand the pressure that Republican senators are undoubtedly under. This would be a deciding vote. But that's not how the system is supposed to work.
Obama has opted for a popular choice in his Supreme Court nomination of Garland. The 63-year-old judge is considered a centrist with broad appeal to both Republicans and Democrats alike.
Garland was appointed to the Circuit Court in 1997 by then-President Bill Clinton. He has decades of judiciary experience to bring to the Court. An honors graduate from Harvard Law School, he is a 19-year veteran of the D.C. court (considered second only to the Supreme Court in power). While he is considered a moderate, his stance on criminal justice is more conservative than liberal. According to Tom Goldstein of the SCOTUSblog, Garland rarely votes in favor of criminal defendants' appeals of their convictions.
While his record on criminal justice might be conservative, his stance on gun rights couldn't be more liberal. According to the Washington Times' Dave Boyer, the Conservative Judicial Crisis Network is planning on opposing Garland's nomination. The JCN is concerned that, given Garland's record on the bench since 1997, he will vote to overturn one of Scalia's most important opinions (D.C. v. Heller, which affirms the Second Amendment's right to bear arms).
His liberal record on gun control might come from his history as a Federal prosecutor.
Garland has overseen 2 of the highest-profile domestic terrorism cases in U.S. history. He oversaw the prosecution of Ted Kaczynski (known as the Unabomber) and Timothy McVeigh, the extremist who blew up a federal building in Oklahoma City in 1995.
Garland is often described as a 'brilliant' man — soft spoken and well-liked on both sides of the aisle. In a press conference from the White House Rose Garden Wednesday morning, Obama had this to say about Garland,
Like Justice Roberts said, anytime Judge Garland disagrees, you know you're in a difficult area.
Obama appealed to the Senate and their proposed refusal to even meet with Judge Garland."Be fair," he said.
Garland, visibly emotional when accepting the nomination, talked of his family history. He said his parents taught him that, "Service to the community is a privilege." He talked of his responsibility as a judge to "follow the laws, not make them," and his dedication to the constitution. Garland was humble, solemn, and earnest — as befits the occasion.
Here's hoping he is given his fair shot.