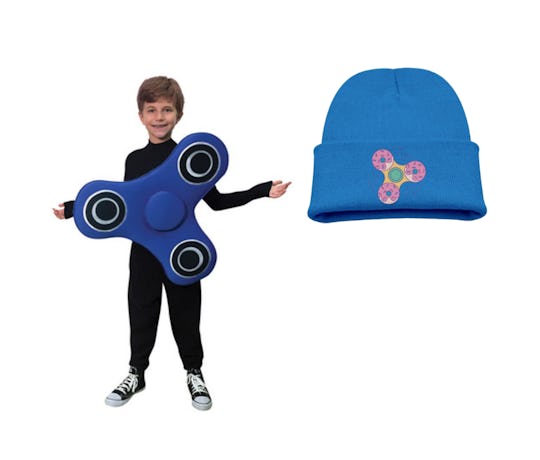 Halloween Express and Amazon
10 Actually Funny Halloween Costumes For 2017 That Will Lock In Some LOLs
Halloween costumes tend to fall into three categories: scary, sexy, or funny. The first two categories are usually well-represented, but I feel like there's always room for more silly costumes in the world. Fortunately, there are tons of actually funny Halloween costumes that are on trend and guaranteed to make your friends and family crack a smile. Both kids and adults can enjoy the holiday in a silly costume.
Despite the year's many tragedies and struggles, there are still many lighthearted things to laugh about in 2017. (Sometimes laughter is the only response, right?) Plenty of topical costumes have made the list, including certain double-meaning emojis and the ubiquitous fidget spinner. But every Halloween also brings a fresh crop of weird and funny costumes that are great in their own right, so I've included several of those as well. I mean, a person getting a piggyback ride from a gnome is pretty bizarre and hilarious, right?
Plus, these costumes also neatly sidestep the controversies that some costumes kick up every Halloween. Seriously: dressing as a sexy border patrol agent or pregnant Kylie Jenner is pretty insensitive, as noted by the website for People. There are so many other ways to wear a funny costume that don't rely on insulting or belittling anyone. Check out these looks for inspiration, and let them inspire you to create a hilarious Halloween costume all your own.