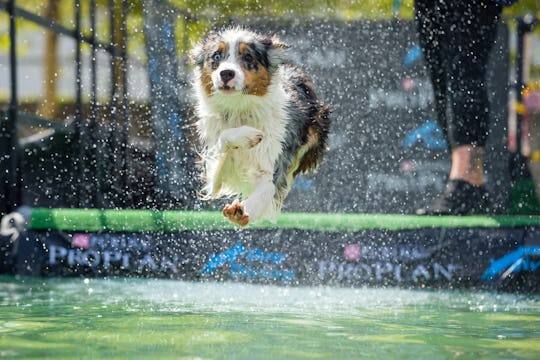 Jens Schlueter/Getty Images News/Getty Images
You Need To Hear These Amazing Dog Stories RN
Dogs are loyal, compassionate, cuddly and cute. But they can be so much more than that too. They can be lifesavers, heroes, nurturers and confidence builders. They can be smartypants and bully-busters, not to mention the world's best mothers. These 10 amazing dog stories will blow your mind and melt your heart all at once. And let me warn you, if you don't already have a dog, these stories will make you want to adopt one asap. (Full disclosure, I've already started researching shelters in my area.)
One of my all-time favorite dog stories is of Bretagne, the 9/11 "hero dog," who was part of the search and rescue mission after the September 11th attacks, according to The Atlantic. The brave Bretagne "was among the dogs rushed to New York from across the country to help in the rescue and recovery," joining the many selfless heroes in the aftermath of 9/11.
"When our task force arrived at Ground Zero, I just couldn't believe the magnitude of it. And then I looked down to [Bretagne] and she seemed stoic and ready to work," said Denise Corliss, Bretagne's owner, in a Youtube video from Barkpost.
Now that's pretty inspiring stuff. Seems like dogs can do just about anything, whether it's sensing pregnancy in their owner or somehow knowing something is wrong, even when humans are unaware. Here are 10 more incredible tales of those with tails!