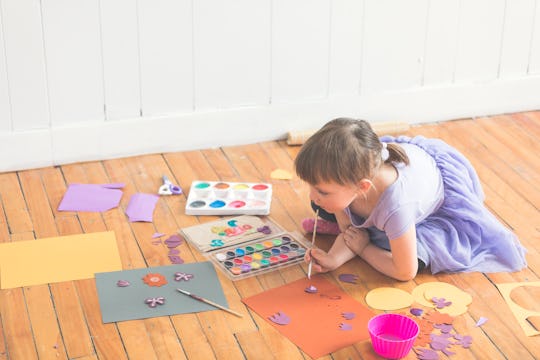 MmeEmil/E+/Getty Images
10 Amazon Craft Kits For Kids So You Can All Survive The Quarantine
Shortly after the World Health Organization officially called the coronavirus a "pandemic," the proverbial you-know-what hit the fan. And in addition to everyone buying all the toilet paper, U.S. schools have been closing, too. So you're probably looking for ways to keep your quarantined children entertained, and luckily, there are tons of craft kits on Amazon perfect for kids.
Even though most school-aged kids (at least here in Georgia) will still be doing schoolwork and learning online, you'll probably need some ideas to keep them entertained when school's not in session — especially if you're following the CDC's recommendations of "social distancing" and avoiding the playground or large group playdates. Plus these kits are perfect for a rainy weekend in, too.
These craft kits include things to create for all sorts of different interests, whether it's jewelry, dinosaurs, rock painting, wind chimes, or stained glass, and there's even just a kit full of supplies for open-ended creative play. Bonus: your kid can handle most of these kits all on their own so you can get a break from the incessant chattering and voicing Barbie during pretend play. They're designed to keep your child's attention, while still giving them a creative outlet. So keep them saved for when you reach your breaking point, and then bless the Amazon gods for having them safely delivered.