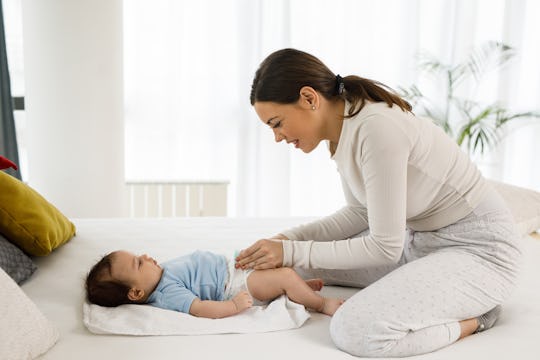 EmirMemedovski/E+/Getty Images
10 Products Your Baby's Gonna Need While You Guys Quarantine
As more parts of the country shut down due to coronavirus, trips to the store to grab various essentials for your baby may quickly become few and far between, if they haven't already. These baby products to stock up on during the coronavirus pandemic can help your family stay prepared should you not be able to leave your home for a couple weeks.
From mild soaps and diaper creams to gentle laundry detergent solutions, babies use specific products that not everyone else in your household may need, so it makes sense to purchase plenty of these necessities as you prepare to practice social distancing by staying home.
Some items on this list will seem super obvious (diapers, wipes, and formula are no-brainers), but you'll want to assess your supply and make sure you have enough to last you through 14 days of isolation, the amount of time the Centers of Disease Control and Prevention (CDC) recommends if you've been exposed to the virus. Stock up for a reasonable amount of time but do not clear off the shelves and hoard — many people need these essentials for their babies, too.
Here are 10 items to responsibly stock up on during a pandemic.