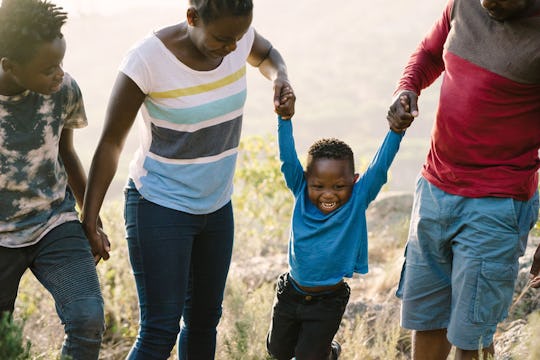 Bruce And Rebecca Meissner/Stocksy
Here Are 10 Reasons Why Hiking With Kids Is The Best Thing Ever
My husband and I are pretty weird. Most holidays and anniversaries, we don't do fancy dinners or anything like that. Instead, we go hiking in random places. (Yup, we like hiking that much.) Since our son was born a little over a year ago, we haven't had as much time for our preferred outdoor pursuit But I can't wait until he's old enough to strap on his own pair of boots, because there are so many benefits to taking your kids on a hike.
"Hikes can be such a great family activity — going outside and appreciating nature is good for both your physical and mental well-being," Dr. Gina Posner, pediatrician at MemorialCare Orange Coast Medical Center in Fountain Valley, California, tells Romper. "It is also a healthy and inexpensive activity that you can do as a family."
Of course, I know there are a lot of people who take their babies on hikes, and more power to them. I personally don't want to feel like I'm cooking myself or my son by wearing him in the front, or on my back, and I'm not sure if I'm in shape enough at this point to use one of those fancy hiking baby carriers. (It is so hot and humid where I live in Georgia, y'all, and it's like that pretty much eight months out of the year.) I think we'll all have more fun when my son is a little bit older and I won't melt into a puddle on the hiking trail. That's when we can really take advantage of the following perks.