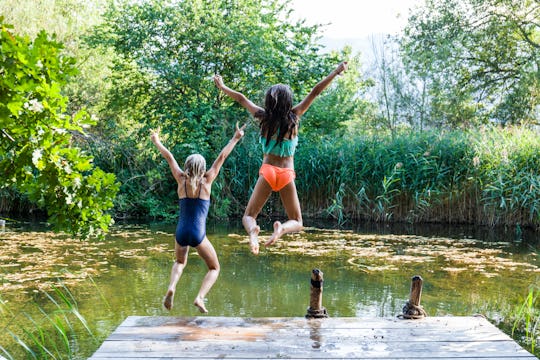 Westend61/Westend61/Getty Images
10 Books (For Adults) That Will Make You Feel Like A Kid In The Summertime
Happy childhood memories pretty much fall into a few categories: holidays, birthdays, and summer. Some of the best moments in life happen before the age of 18 and between the months of June and August. There's no going back in time, unfortunately, but you can bury yourself in books that'll remind you of childhood summers... especially if you spent your summers reading.
My own memories of summer days are punctuated by the feeling of the searing hot leather seats against my skin as I snapped the seatbelt in my mom's 1994 Volvo station wagon so we could head to the bookstore. See, my folks had a rule. There were two things they would always let us have as much of as we wanted: fruit and books. Naturally, I took advantage of the latter and that meant we spent a lot of time visiting Sunshine and Wisteria Bookstore (where I later worked over Christmas break). Books in general remind me of summer, but the books on this list are particularly summer-centric.
In fact, you might remember reading some of these books during a childhood summer (or teenage summer), because the YA genre has given us so many summer reading classics — and they're 100% worth revisiting. (Be prepared to feel like you're a tween again, lazing in a lounge chair with a popsicle.) Others on this list are more "mature," but they're all equally compelling. So pull up a hammock, because this is the best summer reading list of all.
We only include products that have been independently selected by Romper's editorial team. However, we may receive a portion of sales if you purchase a product through a link in this article.