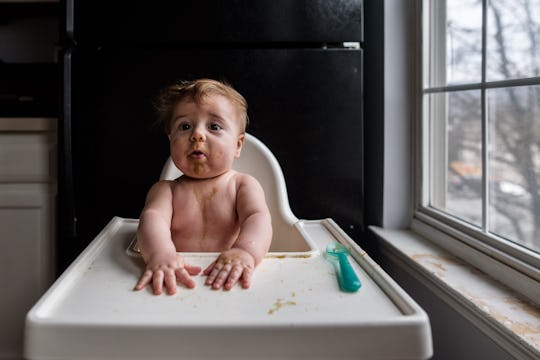 Cavan Images/Cavan/Getty Images
10 Super Safe Cleaning Products To Use On Kid Stuff (Even The Highchair Tray)
You want the surfaces your little one touches every day to be as germ-free as possible, but what's the point of wiping down a highchair tray with a disinfecting wipe that leaves traces of toxic ingredients behind? (You don't want your kid getting those in his mouth, either.) Luckily, there are lots of cleaning supplies that are safe for kids to be around,so you don't have to clean your child's stuff twice: Once to remove the dirt, and then again to remove the germ-killing chemicals.
Of course, it goes without saying that you always need to exercise caution when it comes to housecleaning supplies, no matter how natural. "All cleaning products can be toxic to children if ingested," author and pediatrician Whitney Casares, M.D., MPH, FAAP, tells Romper, "though some can cause skin or eye irritation as well." Warning labels on bleach (which is commonly used in bathrooms) often explicitly mention danger if it gets on the skin, in the eyes, or ingested. (In fact, if you're using bleach, Dr. Casares recommends letting it dry on surfaces "for at least two to five minutes after application" before assuming it's safe to touch. If you want to avoid bleach altogether, she says "vinegar or baking soda mixtures may be less toxic but should still be used with caution.")
Other household cleaners can pose a risk to kids as well. Parents should also "avoid products with extra phalates and parabens when possible as these have been associated with harm to the endocrine system," Dr. Casares says.
On the bright side, more companies than ever are developing products without using harmful chemicals. Here are 10 you can use on your kid's stuff without having to worry that they accidentally get traces of it on their fingers (which is to say, in their mouths). And if you've got an older toddler or preschooler on your hands, you can even encourage them to help out without worrying about them inhaling harmful fumes or getting dangerous residue in their eyes.