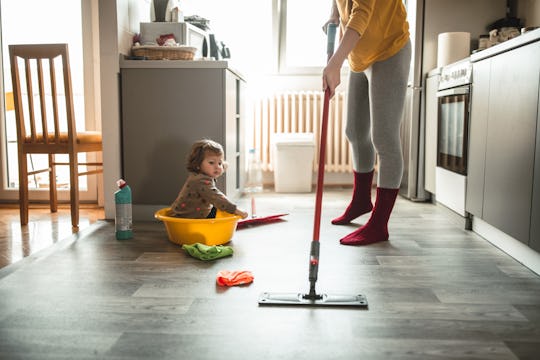 freemixer/E+/Getty Images
Here Are 10 Classic Cleaning Products That Still Live Up To The Hype
Take a stroll down the cleaning supplies aisle at your local store of choice, and you'll soon see that the options are truly endless. Need a glass cleaner? There's at least half a dozen to choose from. Looking for something to get rid of that as-of-yet unidentified goo on your couch? There are plenty of products for that, too. But when it comes to getting rid of the grime, there are some classic cleaning products that are still worth the hype.
If you're like most mommas, you probably have a plethora of cleaning products that live in cramped quarters underneath your kitchen and bathroom sink. They might be half bottles of this, and unopened containers of that. Thing is, there are really only a certain number of cleaners and sprays that you really need to get your house looking all shiny and new again. There are no-nonsense products that will cut through the grease, and others that are made from organic elements to promote a healthier (and more sanitized) space.
If you're planning on doing a deep cleaning sometimes soon, these classic cleaning products are the ones you should be getting down to scrub and spritz with for maximum effectiveness. And then, for just a few minutes, soak up the refreshing scent (and sight) of a clean house. That is, until, your kids make a big ol' mess again.