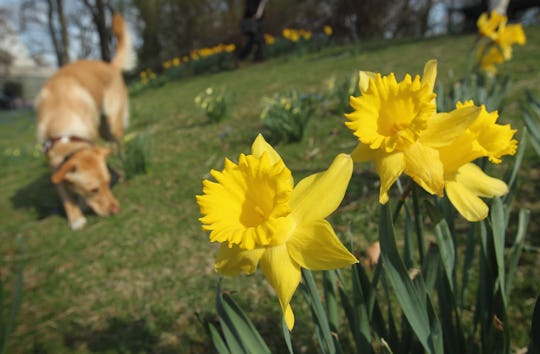 Sean Gallup/Getty Images News/Getty Images
10 Dog Names Based On Flowers, Because One Might Be A Sweet Fit For Your Pup
Ask any of my friends and family and they will tell you it comes as no surprise that I turned to books when naming each of our four adopted cats. I know. Yes, four. Our sweet and studious Emerson is named after literature's Ralph Waldo and our fiery orange, long-haired Madeline was given her name as a nod to the brave and outgoing main character in Ludwig Bemelmans' children's books. But finding a name that best suits your furry family member can be tough, which is why I kind of love this list of dog names based on flowers.
This list is especially sweet because if your pooch joined your home just as the spring flowers were beginning to bloom, then it's fun to pay homage to the season in which they first discovered their family. After all, how fitting is Daisy for your fun-loving furball or Tulip for the dog who made you feel like you had found a forever friend?
Take a peek at the list below and see if you have a Thistle, Primrose, Bluebell, or Fleur on your hands. You might be surprised to find out that your favorite bloom is a perfect fit for your equally beloved canine.