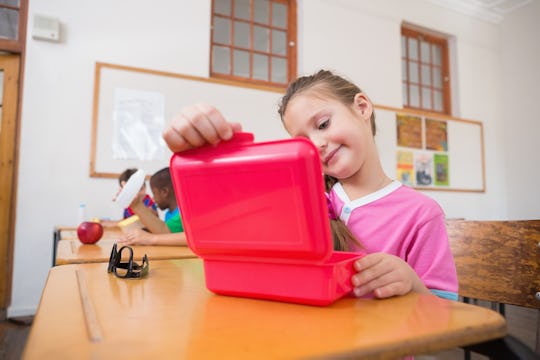 WavebreakmediaMicro/Fotolia
10 Easy School Lunch Ideas That Your Kids Won't Actually Want To Trade
Every year at back-to-school time, I make a promise to myself: This year, I'll do a better job of packing my kids lunch. I have such good intentions, I swear, all involving fresh produce and multiple food groups and things that don't come in little plastic pouches. Inevitably, long before Halloween, I'm back to frantically passing off whatever snacks happen to be in the pantry as "lunch" or handing over a five-dollar-bill that will probably go to chips and ice cream. So what are some easy school lunch ideas that I'll actually be motivated to make and my kids will actually be motivated to eat?
When you're not sure whether or not your kids are going to consume the lunch you packed, it's hard to feel super pumped about putting a ton of effort into the daily task. I can't even count how many times my kids have come home with exactly one bite out of their sandwich. Or then there's the thing that happens when you send a baggie of, say, carrot sticks, and your kid comes home with lunchbox full of cheez curlz dust. "I traded," is always the explanation for that fun trick.
Luckily, there's something on this list for everybody — from kids who refuse to eat anything but peanut butter and jelly to kids with more adventurous palates to kids who can't eat bread — and everything is good for them, too. Another year, another chance to get this school lunch thing right!