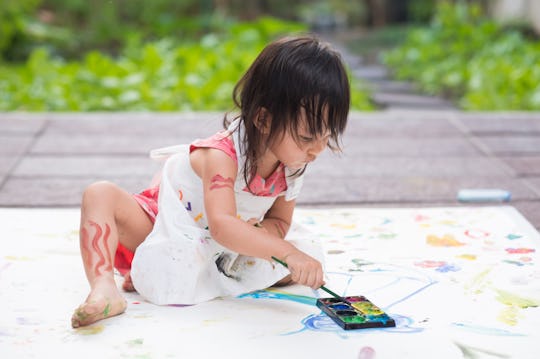 Shutterstock
Kids Will Love Making Messy Masterpieces With These 10 Eco-Friendly Art Supplies
One of the most rewarding parts of parenting for me has been seeing my little ones create their own artwork. There's something so magical about watching them graduate from scribbles and circles to stick figures, rainbows, and "who knows what that is, but they sure are proud of it" creations. However, I often think about the safety of the products they use, and how they may be damaging the environment not only through the product's manufacturing, but also in the waste that's created. Thankfully, there are options available for eco-friendly art supplies that will still allow your kiddos' imaginations to run wild while also making their "masterpieces" safer and friendlier for the Earth.
The first time I really thought about the environmental impact of art supplies was a few years ago when I learned about The Crayon Initiative, an organization that collects discarded crayons from restaurants, schools and homes across the country in order to melt them down and re-manufacture them. Those "new" crayons are then donated to art programs at children's hospitals. How amazing is that? As explained on their website, each year "more than a half-million pounds of crayons are discarded, turning into a waxy sludge that clogs our landfills and never biodegrades."
Not to be a buzzkill, but climate change is a big deal y'all (despite what our President might say), and anything you can do to reduce your family's carbon footprint is going to make Mama Nature very happy (check out some tips on NASA's Climate Kids website). Why not start today by picking up some of these eco-friendly art supplies? If your kids are going to fill your home with art projects, at least you'll sleep better knowing these will be gentler on the environment. Especially (and I can say this from personal experience) when you sneak out at night and put some of them in the recycling bin because there is just no more room.