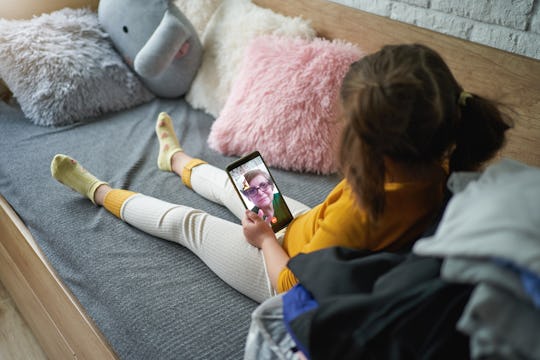 Charli Bandit/E+/Getty Images
10 Fun, Easy Games The Grandparents & Grandkids Can Play Together On FaceTime
Without a doubt, one of the hardest things about quarantine is not being able to visit and spend time with family. This can feel especially hard for grandparents, who are used to those precious moments with little ones, and for the grandkids who miss their Mimi and Gaga. Fortunately, we do have FaceTime, and there are lots of simple, easy games out there grandparents can virtually play with the grandkids.
FaceTiming (or Zooming or Skyping or hologramming or whatever it if you're doing to stay in touch via technology) can of course be awkward, and it is most definitely not the same thing as climbing into Nana's lap and having her cuddle you and give you a vanilla wafer cookie and read you Clifford.
Which is probably why it can be difficult to hold a child's attention when it comes to FaceTiming grandparents. It just isn't as fun or cozy. And it can also be hard for grandparents, too. Even if they're the most tech savvy of seniors, it can still be some heavy lifting to keep a 5 -ear-old engaged in a conversation. There are only so many ways to ask, "So what did you do today?" And considering that the answer is, most likely, "I played inside," well. That just makes it trickier.
So why not jazz up those phone calls with some simple, easy games? The below games require very little in the way of supplies. All you need is grandma or grandpa, a computer or phone, and a little imagination.