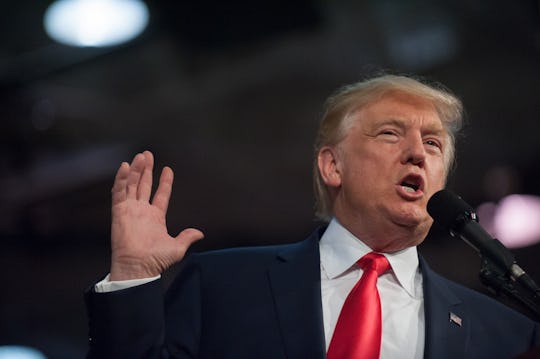 Jeff Swensen/Getty Images News/Getty Images
10 Fathers Respond To Trump's Comments About Women, Proving It's More Than "Just Words"
On Oct. 8, audio leaked and published by The Washington Post revealed Republican presidential nominee Donald Trump describing, celebrating, and admitting to "grabbing" women without their consent to former Access Hollywood host Billy Bush in 2005. The backlash has been (rightfully) relentless and everyone from would-be voters, to politicians, to parents have weighed in on him comments. In the midst of my own disgust and outrage, I looked for "the good." I looked for those opposing rape culture and supporting victims. I looked for fathers responding to Trump's comments about women, desperate to hear that those half-responsible (and sometimes completely responsible) for raising the next generation were as upset about the prospect of a United States president so casually talking about — and even bragging about — sexual assault, as I was. I looked for the people who didn't view Trump's comments as "normal" or "locker-room talk," but who saw them for what they truly were: sexual assault and perpetuated rape culture.
As a mother and a sexual assault survivor, I could go on and on about Trump and how he speaks about (and to) women. However, and to be honest, I am tired. I am tired of trying to explain and teach consent to grown-ass adults who truly believe what Trump described in 2005 as normal, every-day conversations men have with other men. I'm tired of women having to constantly reach into their past, pick the scabs of assault and abuse, and bravely share their stories over and over again, only to have people tell them they're "wrong," that they're being "dramatic," or that they're doing it "for attention." I'm tired of the burden of proof falling on victims. I'm just, well, tired.
So, Romper asked fathers raising both sons and daughters to weigh in on Trump's latest comments. After all, the responsibilities of parenthood do not just fall on women, and there are countless men — either co-parenting with their parenting partners or raising their children as single fathers — who are working tirelessly to teach their children to be respectful of others, know and understand consent, and speak up when they hear or see something inappropriate, dangerous or illegal, happening. Here are what 10 fathers had to say, and how they're trying to fight against the very message Trump has been continuously and defiantly sending the next generation.