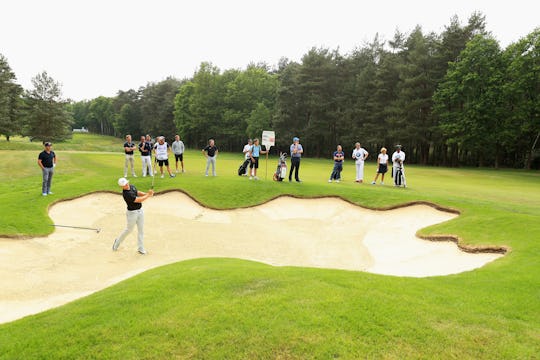 Andrew Redington/Getty Images Sport/Getty Images
10 Golf Gifts For Father's Day Sure To Be A Hole In One
Shopping for Father's Day presents can be tough. A lot of so-called "dad hobbies" don't exactly lend themselves to gifts with a lot of "wow" factor. How exciting can fishing lures be, right? But if your dad is an avid golfer, consider yourself lucky — there are some seriously amazing golf gifts for Father's Day to chose from, and I have a feeling they'll be used on the regular. After all, if there's one thing a dad loves, it's a practical gift.
Even if your knowledge of golf is limited to the Tiger Woods scandal of 2009, finding the right golf gift for dad doesn't have to be a challenge. That's because golf gifts don't have to be limited to items you can shove in a golf bag. In fact, they can include everything from elegant wall art to on-trend clothing. And let me tell you, golf attire has come a long way from the days of plaid and tweed. Today's looks are sweat-wicking, anatomically cushioning, and downright chic.
So without further ado, here are 10 gifts for the dad who loves to hit the links, maybe even with you by his side. One things for sure, giving any of these gifts will be a total hole in one.