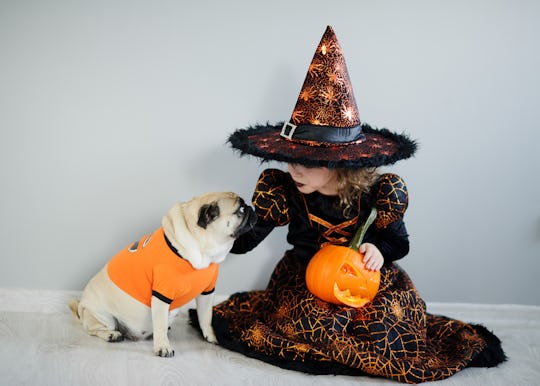 unguryanu/Fotolia
10 Halloween Costume Ideas For Kids & Their Pets That You'll Be Obsessed With
It's normal to get the whole family involved in Halloween shenanigans, but what about one of the smallest, furriest (and, arguably, most important) members of your family? Including your pet in your kids' Halloween costume is both a clever, hilarious, and sweet way to make sure everyone is included and your creative juices are taken up a notch or two. Luckily there are so many costumes for pet and kid pairs that you may come up with more options than you know what to do with.
Although most of these costumes could stand alone without the canine companion, adding a costumed pet makes everything better, so why not include them, too? The costumes range from classic storybook favorites, to current pop culture obsessions, to creative options that no one else will likely think of. Each costume is easy to make, or affordable to buy if you're not the crafty type, and will give you one less thing to worry about as Halloween approaches.
Although your pup probably won't have nearly as much fun trick-or-treating as your kid will, there's nothing more fun that getting the entire family dressed up for Halloween. These costumes give you a creative, affordable, and simple way to do just that.