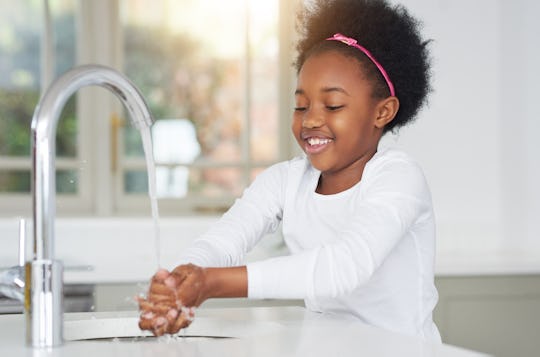 Dean Mitchell/E+/Getty Images
10 Songs Kids Can Sing At The Sink To Ensure They're Washing Their Hands Long Enough
Teaching your kids to wash their hands properly can be one of those unexpected parenting challenges that you feel like you might never overcome. Will they ever learn to actually use the soap? Luckily teaching them some hand-washing songs can at least make sure your kids keep their hands somewhere near the vicinity of the sink for as long as it takes to get germ-free.
Dr. Jennifer Trachtenberg, a pediatrician and spokesdoctor for the American Academy of Pediatrics (AAP), says that proper hand-washing technique dictates washing with soap and water for at least 20 seconds. "It's the mechanical motion that cleans the hands," she says, including that parents should instruct kids to "wash both sides front and back, in-between fingers, and under nails."
I know my kids aren't always washing up as well as they should be, and the struggle to get them to wash longer than the 0.085 seconds they actually want to take scrubbing is real. To ensure that kids are washing their hands for the appropriate amount of time, Dr. Jen recommends parents teach kids to sing a song that is approximately the same length of time that they should be washing — at least 20 seconds. The 10 songs below all fit the bill.