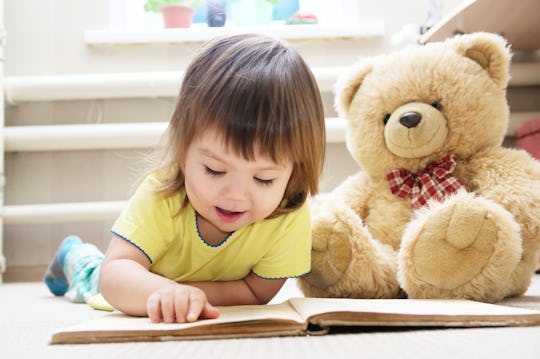 Shutterstock
10 Instagram Captions For Toddlers & Books, Because "Reading" Is Too Cute
There is always something slightly hilarious about a toddler "reading a book." Perhaps because they have zero idea how to actually read? Or because of the perfect Instagram captions for toddlers reading, like "he has no idea what he's doing." Pics of little ones reading are always reliably cute and entertaining, which of course is why they are an Insta staple. To assist with all those "look at my 3-year-old pretending to peruse Salman Rushdie" posts, I've rounded up some caption ideas for you.
I know when I got pregnant, I absolutely loved that I got to dive back into the world of kids' books. I even had a book-themed baby shower where instead of cards, I asked people to please inscribe a book for my child. (Pushy, perhaps, but it was quite nice that when my little one arrived he already had his own little library going. Kids' books are pricey.)
He has always been a fan of books, which thrills me. Not always a fan of reading them, mind you. At first he was mainly a fan of destroying them, like a little totalitarian dictator in a diaper. But over time, he's grown to love actually reading them. And lo, how my heart sang when he first sounded out the word "Arbys," then turned to me with delight and said "Mommy, I can read!" True, I would have preferred his first read word to not be a purveyor of fast food roast beef sandwiches, but life happens the way it happens. Now for the captions!