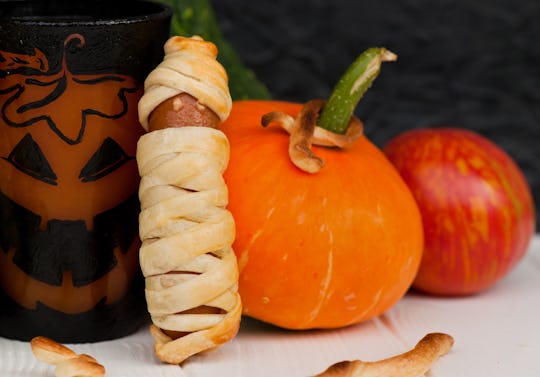 Shutterstock
Here Are 10 Last Minute Halloween Party Food Ideas Anybody Can Scare Up In No Time
Happy Halloween! Throwing together a last minute get together and need a few easy ideas for Halloween party food? You've come to the right place. We scoured the Internet for our favorite blogger's recipes and came up with some spooky ideas that are not only tasty but easy to make (and when it's crunch time, easy is the name of the game).
Whether it's a few friends coming over before you go trick-or-treating tonight, or perhaps you were suddenly compelled to host a costume party inspired by the upcoming release of Cats (hey, anything is possible!), then I wish you the best of luck. Oh, and don't forget the candy for any trick-or-treaters who come knocking at your door! Because the candy always seems to run out before the end of the night.
From the classic chocolate-covered pretzel snack (elegant but kind of sneaky, it's so easy to make) to a colorful Jack O' Lantern fruit tray, you'll be ready to go for party time in a few hours with all the festive snacks you need. And considering this is one of the sweetest holidays of the year (literally), I made sure to throw in some healthy options as well. Just don't forget to take a few photos of your festive table before everyone dives in... have a spooktacular evening!