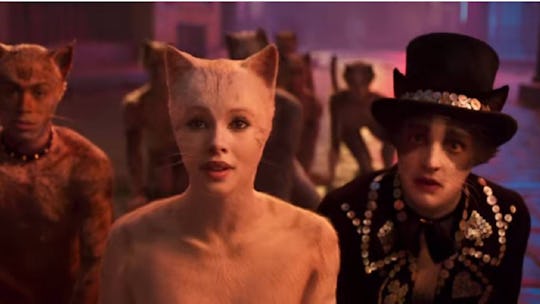 Universal Pictures/YouTube
These 'Cats' The Movie-Inspired Halloween Costumes Will Have You Feeling Feline
Musical theater fans, this post is for you. Cats, the legendary Broadway musical composed by Andrew Lloyd Weber, is coming to the big screen on December 20th. If you and your kids are as excited about the movie as I am, how about celebrating Halloween with Cats-themed costumes this year?
Despite the somewhat odd premise (the movie is about a bunch of human beings pretending to be cats, after all), the film is already getting a lot of buzz, and the music is pretty extraordinary. If you haven't seen Jennifer Hudson singing "Memory" yet, do yourself a favor and check out the Cats movie trailer. The star-studded cast includes Judi Dench, Taylor Swift, James Cordon, Ian McKellen and Idris Elba, to name a few.
Dressing up as a cat is a classic children's Halloween costume, and as you can imagine, there's a lot of variety out there, which should make choosing your child's Cats-themed costume a breeze. (There's also a huge variety of costumes for cats, it should be noted.) See below for some inspiration, and in the meantime, your child can start practicing flicking his imaginary whiskers and saying "meow". And maybe singing "Memory", too? Looking forward to a little trick-or-treating in a few weeks and seeing Cats during the holiday season!