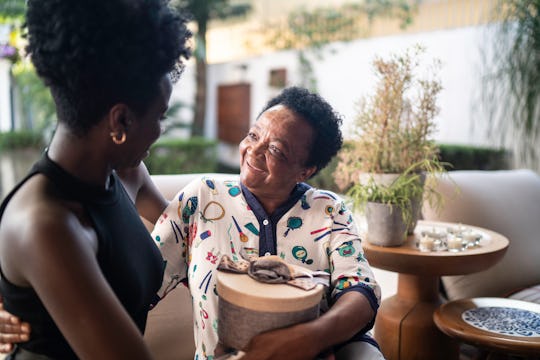 FG Trade/E+/Getty Images
It's (Almost) Never Too Late For A Last-Minute Mother's Day Gift From Walmart
Between work, homeschooling, virtual play dates, and just trying to make it through the day, carefully checking your calendar probably isn't at the top of your list of priorities. Although everyone could argue that they should, holidays don't pause for pandemics, so now is the time to grab some last minute Mother's Day gifts from Walmart. Once you're done, you can close up that calendar until the next holiday creeps up on you, since you probably have no social events happening up until that day anyway.
If you're not sure when you last washed your hair or whether or not your leggings are clean, it's okay if you've forgotten that Mother's Day is May 10. Things are chaotic (to put it mildly) right now, and finding time to simply catch your breath is difficult, let alone finding time to carefully choose the perfect present for the mom in your life. That's not to say she doesn't deserve some love and recognition for her role, it's just to remind you to give yourself a break for getting to the "last minute gift" point. The good news is that you did remember, and Walmart offers online shopping and speedy delivery, so you're still doing great. (All of the gifts on this list will either ship in time for Mother's Day or were available for in-store pickup at the time of this writing.)
If you don't have a specific idea in mind for your Mother's Day gift, trying to scour the Walmart website isn't exactly efficient since they have so many products. So, to help you out, here are 10 great gift ideas.
We only include products that have been independently selected by Romper's editorial team. However, we may receive a portion of sales if you purchase a product through a link in this article.