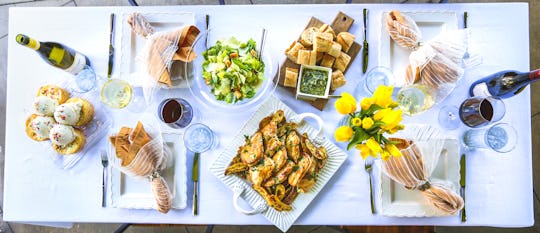 California Pizza Kitchen
Here Are 11 Chain Restaurants Making Special Mother's Day Deliveries
With everyone spending a whole lot more time indoors lately, you've probably been doing a lot more cooking. But that doesn't mean simmering, sautéing, and serving up snacks is how you want to spend Mother's Day. Thing is, going out to restaurants is pretty much restricted at this point, so you're either looking at reheating some leftovers or breaking out those pots and pans. Luckily, you can get the restaurant meal you wanted without long wait times (or woot, even having to put on pants) with these 11 chain restaurants with delivery specials for Mother's Day.
Unless you love cooking, Mother's Day is really the one day when you shouldn't have to enter the kitchen at all if you don't want to. But things are looking a lot different this year, so you're going to have to think differently when it comes to your dining options. Many chain restaurants are offering curbside pickup or direct delivery to your home, which means you can use all the time it would have taken to wrangle everyone together and get out the door and use it instead for something that you really want to do, like sleeping or just soaking up some rest and relaxation.
And sure, it might be sad if you're used to spending Mother's Day with your own mom. So why not order her an entrée online and have it delivered directly to your door, too? It might not be exactly the same as sharing a meal together, but knowing that you thought of her will make your mama proud.
So look through these restaurants that are offering delivery on Mother's Day and see which menus will make your mouth water.
We only include products that have been independently selected by Romper's editorial team. However, we may receive a portion of sales if you purchase a product through a link in this article.