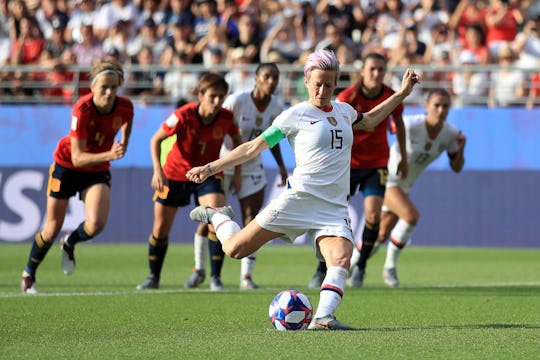 Marc Atkins/Getty Images Sport/Getty Images
10 Megan Rapinoe Quotes Every Kid Needs To Hear
If you didn't already follow the United States women's soccer team prior to June 7, you have undoubtedly heard about them by now thanks to their explosive game play, grit, and determination as they continue to dominate during game after game of the 2019 FIFA Women's World Cup. Co-captain and star forward Megan Rapinoe has been at the forefront of the U.S. team's charge to take the World Cup. She's as outspoken as they come, and unashamedly so, which is exactly why these Megan Rapinoe quotes are ones our kids need to hear.
Despite recent injury, Rapinoe continues to support her team on and off the field, a quality that I'm sure parents of mini athletes can appreciate. Regardless of her political views and the criticism she has received from some, Rapinoe stands firmly behind the statements that she makes. Her tenacity and ability to communicate exactly how she feels and what she stands for is an attribute to be admired.
Rapinoe and her teammates' fight for pay that is equal to their male counterparts by filing a gender discrimination lawsuit on International Women's Day was groundbreaking, and sent an important message about what is and is not acceptable in terms of equal pay for equal (or, in this case, better) performance. In terms of LGBTQ advocacy, Rapinoe is all the way there and is someone whom kids and fellow athletes needing support can look to.
The list of reasons why she's pretty bad*ss is long, but her bold moves on and off the field make these 10 Megan Rapinoe quotes that our kids need to hear that much more important.