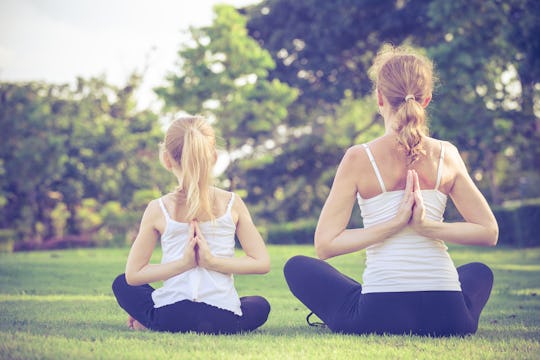 Fotolia
10 Mindfulness Techniques For Anxious Moms, That All New Moms Should Know
Mindfulness is somewhat of a buzzword these days, but there's a reason it's so popular. Mindfulness has been associated with stress reduction, boosts in working memory, and greater relationship satisfaction. Companies like Google offer employees mindfulness training and find that it increases productivity. Teachers across the country are using meditation as a coping technique and an alternative to traditional disciplinary practices. Is it any wonder then that mindfulness can be especially beneficial to new moms? In fact, there are certain mindfulness techniques that all new moms should know.
I've suffered from depression and anxiety most of my adult life. As a younger woman, I tried a few mindfulness exercises that my therapist suggested, but they didn't really take. It came back to my attention when my beloved Anderson Cooper participated in a retreat with guru Jon Kabat-Zinn for a 2015 60 Minutes story. Soon after, I found myself a new mom in a new state, unemployed for the first time in 13 years. It took a particularly bad bout of post-holiday blues to get me to seek help. My counselor suggested a mindfulness group, but I knew bringing an infant to such a group probably wasn't conducive to other people's practice. The leader graciously agreed to work with me one-on-one, with my baby present, so I could actually learn. It was amazing to reach a state of utter tranquility and to watch my baby calm in response.
I know mindfulness has positively impacted my life and made me a better mom, although I'll be the first to admit I'm not always successful. I'm a writer by trade, so a lot of my composition is done in my head before the pen hits the proverbial paper. So while mental composition can be helpful in my work, my mind usually ends up racing and my obsessive thoughts can quickly get out of control. At those times, I'm reminded of the advice of my teacher. She told me that if I can achieve even one minute of mindfulness, I've made a difference in my well-being. (And trust me when I say, those minutes add up.) So, I continue to practice mindfulness whenever I can, knowing that what's good for my mental health is good for my little one, too.