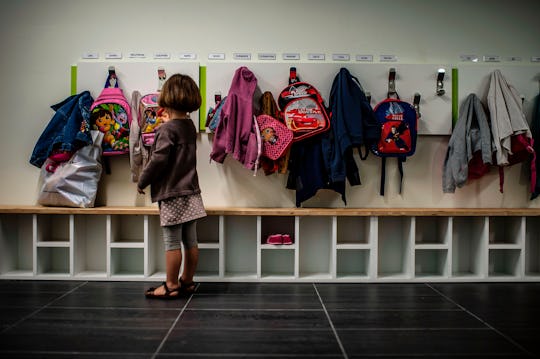 Jeff Pachoud, Getty Images
10 Moms On Being Shamed For Sending (Or Not Sending) Their Kids To School This Fall
Making hard decisions is what raising kids is all about, but the choice moms and dads across the country are faced with right now has got to be one of the most agonizing in recent parenting history. And as if choosing between sending your children to school in a pandemic or homeschooling for the foreseeable future wasn't bad enough, now moms everywhere are feeling shamed for sending (or not sending) their kids to school this fall.
Surveys from a handful of different states show that when it comes to reopening school, parents are not on the same page. A survey by the Minnesota Department of Education found that "more than one-third of Minnesota parents are uncomfortable or unsure about sending their children back to school this fall amid the coronavirus pandemic," MSN reported. In North Carolina, nearly half of Patch readers said it was "too soon" to reopen schools; in Georgia, over half of Patch readers said schools were not ready to safely reopen, according to Yahoo! News. In a survey of 25,000 western New Yorkers, on the other hand, 68% said school should resume as normal in September with new protocols to reduce the spread of COVID-19, reported NBC's WGRZ.
Whether you believe that schools should reopen or not, the decision you make to send your child (or keep them home) is a personal one involving very complicated factors like work, finances, and mental health. Unfortunately, no matter which way you go, you can be sure that someone in your life will think you made the wrong choice. Some of the moms Romper spoke with are already being criticized by family and friends for what they've decided to do about school this fall... and the ones who haven't been shamed just yet are bracing themselves for the inevitable.